Virtual Production Days See ROE Visual Black Pearl in Action
When Faber Audiovisuals set out to organize the Virtual Production Days at the Amsterdam Studio's last February, they choose a combination of ROE Visual Black Pearl BP2 and Brompton processing technology for the LED screens that were set up as green screen replacements for film and TV.
Faber Audiovisuals, part of the NEP Group, is known to be a prominent player in the market for LED displays and audio-visual productions. Being at the forefront of innovative developments and implementing these as ready-made solutions for their client base, Faber Audiovisuals, hosted the Virtual Production Days at Amsterdam Studios together with its partners Amsterdam Studio's, Stype, Brompton, Disguise and HighRes, By Lex and NEP Hilversum, to inform its client base on the latest developments and possibilities in virtual production. Now more actual than ever.
"Shooting sets with a virtual production team involved in the process adds greatly to saving on production time and costs, compared to regular post-production VFX work"
As presented in different set-ups, Faber Audiovisuals showcased the nearly endless possibilities that can be created using a combination of specific technologies, bringing together LED technology, processing power, video playout and visualization tools.
In addition to the virtual studio corner set-up, using Black Pearl LED panels on Brompton HDR processing, Faber builds a car-rig showcase, using Carbon series CB3 LED panels.
While the Black Pearl BP2 LED screens have outstanding on-camera performance, due to distinctive product specifications, such as scan rate and LED quality, Brompton's revolutionary Dynamic Calibration technology, delivers images that appear sharper, more detailed and vivid. Next to these to set-ups, Faber displayed some Black Marble LED floor panels and ROE LED Strip elements.
"The car rig worked with a BMW situated in front of and under an LED screen. On the driver's side, we situated a third, smaller LED panel. The camera used was dolly mounted, so we could drive along the driver's side of the car. The side panels either showed a shopping street or a bridge. The roof panel provides reflections on things like the windscreen. The composite image is astonishingly realistic; as if you are racing at full speed through a neon-lit shopping street or across a long suspension bridge", explains Jasper Reijgers, Sr. Executive Streaming, TV & Film for Faber Audiovisuals.
"With the panels being recalibrated with Hydra, we ensured that the HDR content could be shown with higher contrast ratios, deeply saturated colors, and true-to-life color accuracy," states Dries Vermeulen, Business Development Manager Europe at Brompton Technology. "LED screens have become an increasingly attractive option for all types of film and broadcast productions. We see the use of LED screens in broadcast and film applications gradually increasing on the one hand, while the use of LED screens is drastically changing the production landscape with the entry of virtual production technologies on the other", comments Roelof Bouwman, General Manager for ROE Visual Europe.
LED screens can now provide immersive, realistic backdrops for film productions, shooting sets with a virtual production team involved in the process adds greatly to saving on production time and costs, compared to regular post-production VFX work.
During the event in the Amsterdam Studios, attended by over 220 international guests, including VFX supervisors, directors of photography, content designers, directors and VFX/post-production companies and broadcast production companies, Faber Audiovisuals demonstrated Virtual Production as a new production process that merges physical objects, such as actors and real-world camera movements, into real-time computer-generated imagery (CGI). They also showcased rendering solutions and the process of virtual production to create a digital world, with real-time interaction on set.
"This new production process will change the way we plan film productions, shifting the attention to pre- and on-set production. Film production will include the whole process from shooting to script adjustments to editing at one go, in a controlled environment like a studio. Real-time rendering helps support this new methodology", states Nils Pauwels, Sales manager solutions at Faber Audiovisuals.
With a sold-out event and receiving much positive feedback Faber Audiovisuals can look back on a successful demo. "It was a perfect platform for us to meet new people and exchange information with some of the most prominent industry leaders," adds Reijgers. "Presenting the future processes for TV and film production has solidified our vanguard position in the Virtual Production topic in the Netherlands and internationally."
More about LED for virtual production
Products Used:
More information:
https://faber-av.com/curiosity-leads-220-guests-to-amsterdam-studios/
Upcoming Events
30 Jan.

ISE Exhibition Barcelona, Spain

ROE Visual presents exciting new products and LED solutions for AV Integration, live events, and virtual production applications. Discover how ROE Visual can help you to deliver stunning visual experi...
See all events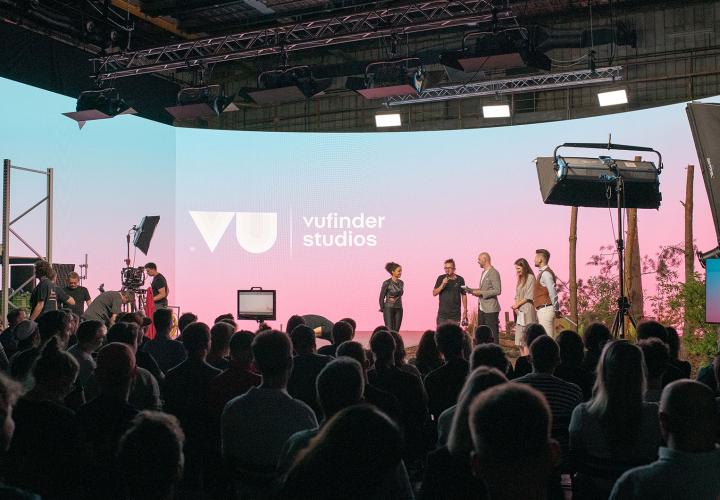 Latest News
20 Nov.

VUFINDER STUDIOS SELECTS ROE VISUAL FOR ITS VP STUDIO

VuFinder Studios just launched its new studio, boasting to be Poland's largest Virtual Production LED Volume.
See all news