ROE Visual to Showcase New LED Applications for Broadcast at IBC
Shenzhen, China (20 August 2019) – Bringing its latest product innovations to the IBC Exhibition, ROE Visual will showcase new products and product solutions tailored for broadcast applications. In addition, ROE Visual has selected the IBC exhibition as a favorite platform for the European launch of the Amber and Jasper LED screens.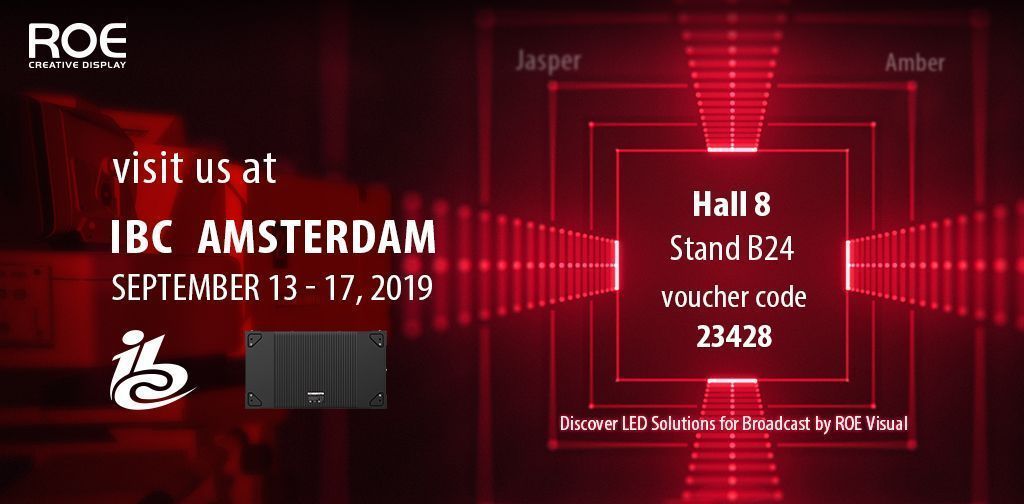 Held in Amsterdam from 13-17 September, the IBC Exhibition is Europe's most influential media entertainment and technology show and will host over 55000 attendees originating from over 140 countries. The show presents the latest technologies and innovations, mainly orientated for broadcast applications. ROE Visual will present its products in Hall 8, stand B24.
Bringing a range of products suited for broadcast applications, ROE Visual aims to visualize the added value of LED screens for broadcast applications. "Where some of our products are already frequently used for numerous broadcast shows like the Black Marble LED floor, we also like to highlight our latest innovations, like the anti-moiré mask and the smart-stage, which is featured by White Light", comments Auke Meijer, Sales Director for ROE Visual Europe.
"Partnering with both White Light (Hall 8 B15) and disguise (Hall 8 B26) enables ROE Visual show its hardware solutions and, in addition, the innovative applications in which they play a crucial role. ROE Visual products like the Diamond DM2.6 screen are on display at the disguise stand, while the Black Marble and Black Pearl LED panels to provide the canvas for the digital possibilities that White Light's smart stage offers".
In the ROE Visual stand 2 new products will be launched:
Amber LED Platform - Fine pitch. Excellent visuals.
Amber offers fine pitch video solutions for exacting environments, like boardroom, broadcast or control room applications. Future-ready, Amber is a native 4K ratio platform sporting different pixel pitches, supports HDR technology and offers added greyscales, high refresh rates, and superb color depth. EMC-B compliant.
Jasper LED Platform - Easy installation. High-end results.
The Jasper LED display solution offers uncompromised picture performance and optimal installation benefits, ideal for system integration. Deliver perfect presentations, due to the superb LED quality, HDR technology, and high refresh rates. EMC-B compliant.
Next to the new Amber and Jasper LED platforms, ROE Visual will showcase the anti-moiré mask, an innovative and easy solution to solve the so-called on-camera moiré effect. By adding a special lens cover to the individual LED, creating a macro rear projection, the light emitted from the LED is diffused, generating an even and steady visual performance, without gaps or glare.
We look forward to the show which always proves an excellent opportunity to network and engage in conversations with our clients and users. Meet the ROE Team in Hall 8, stand B24.