ROE Visual Brings Next-Level Integration and A 6K Viewing Experience to ISE
Leek, The Netherlands, (3 January 2019)-Presenting its visitors with an unmatched viewing experience in 6K, ROE Visual is gearing up for ISE 2019 with a new selection of outstanding products and integration options aimed at the rental and system integration markets they serve. ROE Visual is located in Hall 12, stand F50.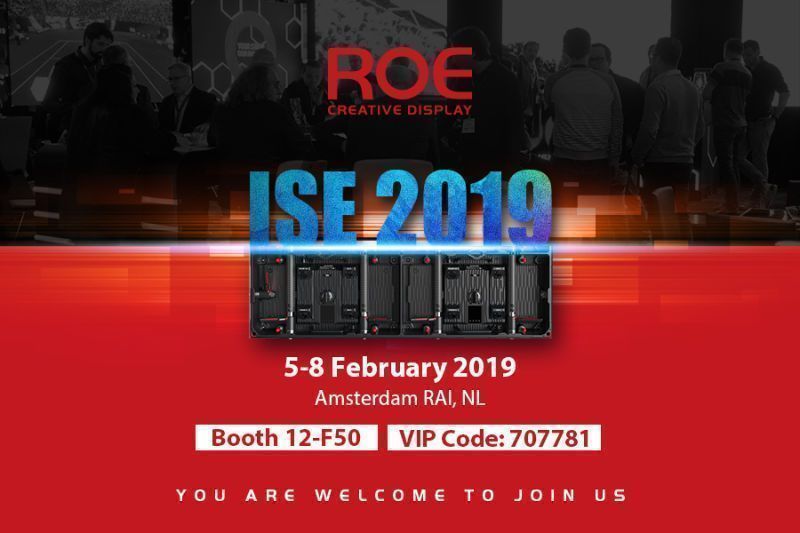 The ISE, which is held at the RAI in Amsterdam, from 5-8 February 2019 is an important showcase opportunity for ROE Visual. The show gathers various partners to be informed on the latest product developments and solutions for applications like corporate meetings, touring and live events as well as broadcast, event venues, architectural design and control rooms.
This years' stand design will feature a massive Sapphire SP1.5 screen, a Diamond 2.6 video wall and the Black Marble LED system in various applications. Next to these high-end products, the ROE Visual stand design incorporates the ROE Strip and the newly released Vanish V8 LED panel.
Black Marble LED system excels in full integration
The versatile Black Marble system by ROE Visual has evolved from a fast-building LED floor to a full-fledged system that provides stylish and unique integration solutions, to create floors, multi-level platforms and walls suited for architectural, broadcast or event applications. The system has four different finishes for a classy or fashionable look.
Sapphire re-defines LED display for a great visual experience
The unique Sapphire platform by ROE Visual is the only NPP system that can be suspended. Sporting a mere 1.5 mm pixel pitch and unique frame structure, Sapphire offers a flawless canvas that is strong and stable. The clever assembly system with intersection layers guarantees a seamless assembly.
Vanish V8 - Now you see it, now you don't
The Vanish V8 system by ROE Visual offers high transparency. With a transparency of 60% this light-weight LED panel boasts an outstanding performance through its high-brightness and excellent viewing angles, capturing the audience's attendance with a surprising visual experience.
Get your coffee from the wall
ROE Visual pairs its exciting product presentation with excellent hospitality and expert support from both the ROE sales and product development teams.
Whether you care for sound advice, a product demonstration or just a good chat with some great coffee, your welcome to join!
ROE Visual, ISE stand # 12F50