ROE Visual Chooses IBC for European Launch of Sapphire
Leek, The Netherlands (August 2, 2018) -- ROE Visual will present its latest product offerings at the IBC Exhibition, which is held from September 14-18 2018, at the RAI in Amsterdam. ROE will present its ground-breaking high-resolution Sapphire LED platform to the European market among other cutting-edge studio and fixed-installation products in Hall 8 A23.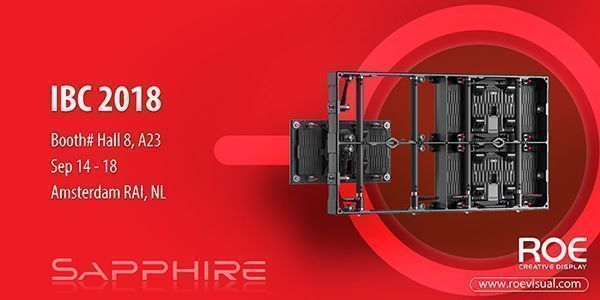 Launching its latest product innovation, the Sapphire platform on the European market, ROE Visual marks the IBC show as an important gathering of media, entertainment and broadcasting professionals. IBC is an influential show, bringing together over 57,000 professionals from over 170 countries. It also showcases some of the world's latest innovations in media technology.
Unleash your creative genius with Sapphire
The ROE Visual Sapphire is the first Narrow Pixel Pitch(NPP) LED panel platform that combines outstanding visual brilliance with a clever assembly system.Designed to meet high performance standards while using a small pixel pitch, Sapphire's unique system of intersecting frames allows for maximum creativity and ease-of-assembly.Using a system of intersecting layers enables creating a single solid assembly that uses less hardware and applies less force to the individual panels, keeping to an aspect ratio of 16:9 in all configurations.The unique concept of separating the frames from the actual LED panels saves valuable production time. The Sapphire platform can be used in a wide range of indoor applications, as product manager Dries Vermeulen explains in this video.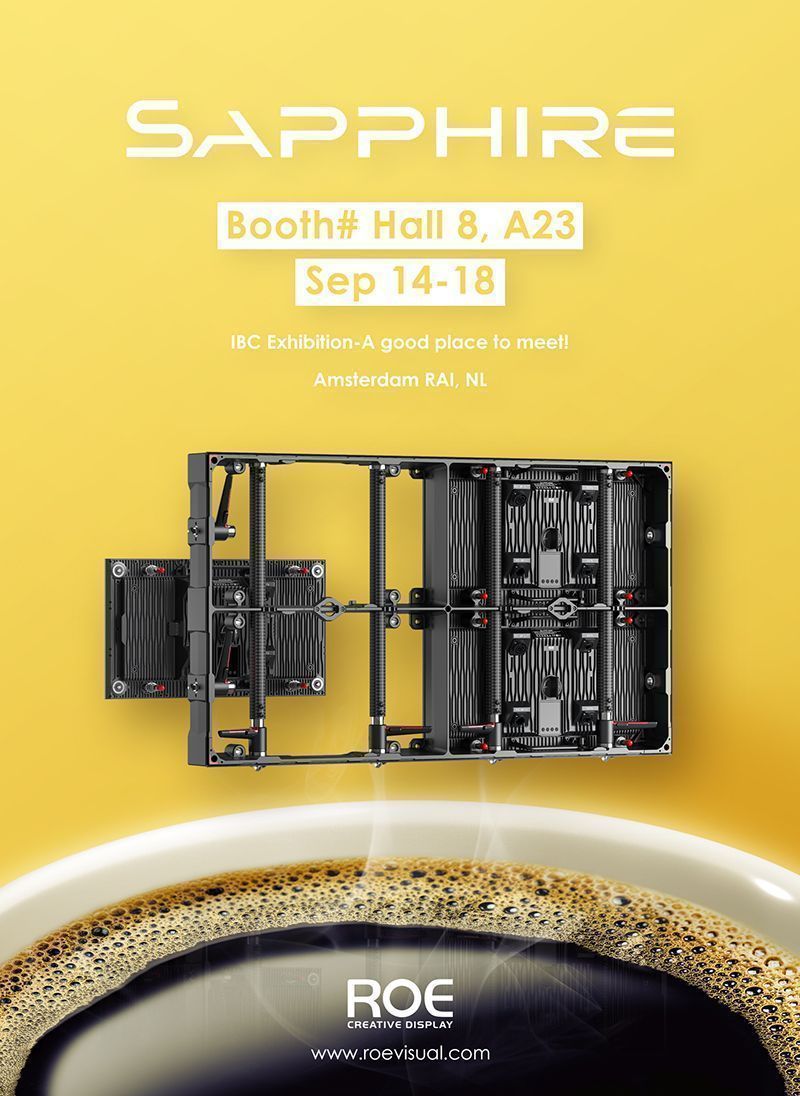 Black Marble by ROE Visual brings brilliant LED at your feet
ROE Visual will further showcase the Black Marble Glass LED platform, designed to offer LED floor solutions for concert stages, TV studios, commercial stands and a variety of other creative applications. The high-end glass or matte finish is remarkably strong and scratch-proof, while Black Marble's glass finish enhances the visual effect of its high-contrast panel. Similar to other ROE Visual products, Black Marble installs quickly and easily, reducing assembly time and labor costs. Watch Black Marble in action.
"The IBC show is an excellent place to see first-hand new technologies and innovations for broadcasting purposes. We are looking forward to showcasing our great new products, offering attendees the chance for a demonstration and in-depth information", says Roelof Bouwman, Managing Director of ROE Visual Europe.
You can find ROE Visual in Hall 8 Stand A23.