ROE Visual to Launch LED Screens for Fixed Installation
Shenzhen, China (9 May 2019) - ROE Visual will launch its brand-new series of LED screens for installation purposes at InfoComm 2019.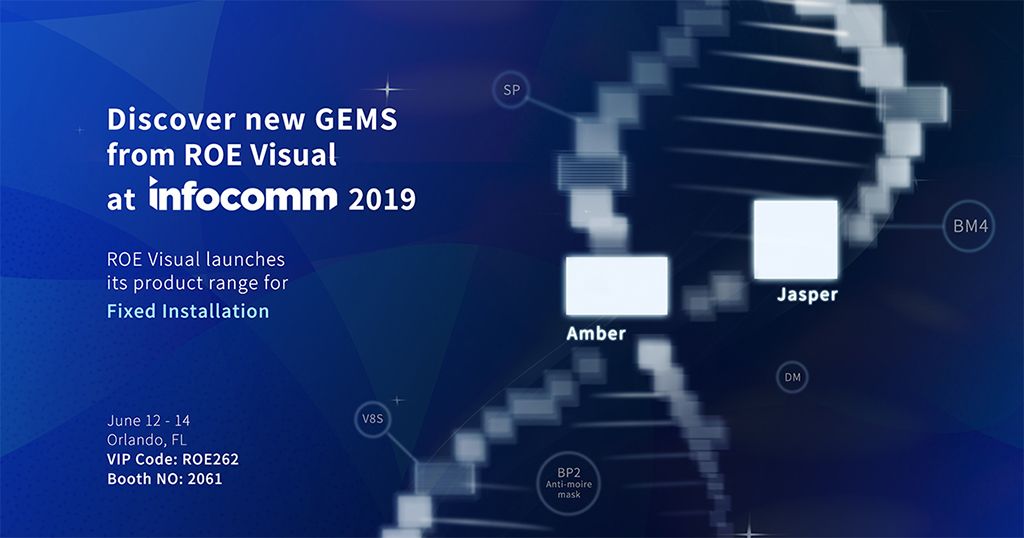 ROE Visual has designed a range of products specially adapted for use in permanent or fixed installations. Based on its in-depth experience with products used in the live industry ROE Visual has developed and designed products based on the same philosophy; flexible products that are easy to install, maintain and use.
The InfoComm 2019, which is held in Orlando, from 12-14 June, is the largest professional audiovisual trade show in North America. It provides an excellent platform for ROE Visual to present its series of LED panels for integration applications. You can find ROE Visual at booth #2061.
Your Install, Our Passion – Creating a Myriad of Possibilities
ROE Visual presents products that adapt easily to the system integrators requirements. The new series will continue the gemstone-named range of excellent LED products that are ROE Visual's heritage.
The new LED panels will have feature 2 different designs, one based on a 50x50cm panel and one with a 16:9 ratio panel. Pixel pitches will range from 0.9375mm to 3.9mm.
Both products will boast excellent visual qualities that play into the demands for permanent video installations, for e.g. broadcast, film studio's, corporate solutions, houses of worship and board rooms.
Answering customer demand
"This move is mostly instigated by our own clientele", comments Glory Gao, "With keen understanding of project management, logistics and implementation processes, we provide clients with not only the right LED display solutions for their projects, but with the comfort that these will be delivered timely to perform flawlessly at their event".
ROE Visual is driven by a diverse client base that demands efficiency and innovative solutions. "ROE Visual certainly has the capabilities to support a cross-over, integration and installation market", continuous Gao, "Being involved in many projects on a global scale over the last 15 years, I know what it takes to do things first-time-right"
Based on that hard-owned expertise, ROE Visual invited Gao to head the team that would support the global fixed installation market for them.
Join us at InfoComm 2019 to discover ROE Visual Fixed Installation products
Next to the Jasper and Amber series regular ROE Visual products are showcased as well; like Sapphire SP1.5, Diamond DM2.6, Vanish V8S, Black Marble BM4 and Black Pearl BP2.
You can find ROE Visual at booth #2061.