ROE Visual Europe Expands Service to D A CH Region
Leek, The Netherlands (12 March 2019) – ROE Visual Europe has appointed Erik Baum to lead business development in the D A CH region. Strategically strengthening its sales team with an experienced LED expert, ROE Visual Europe enhances its sales activities for the German speaking region and extends its knowledgeable team of LED display specialists.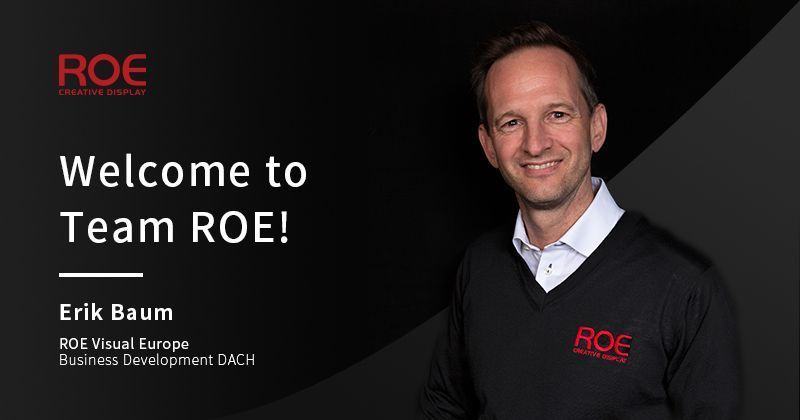 "Having worked in the AV market for several notable partners in various sales roles, Baum is the perfect candidate to further grow our brand in the German speaking region" comments Roelof Bouwman, "We're delighted to have him joining our team".
Knowing the video equipment market inside out, due to his years with VER, Baum is familiar with both the market demands and drivers. Paring these with the excellent LED products ROE Visual offers will create good market opportunities.
With over 18 years' experience in the rental of video equipment, Baum has a wealth of valuable contacts, underlining his involvement in the German speaking market and his in-depth knowledge of this market. Operating from the Munich area, Baum is close to the market and able to react swift whenever product or sales support is needed.
"Combining his likeable personality with great commercial skills, Baum offers the perfect support for our German speaking clientele, catering for their commercial needs as well as growing our business in the region" continues Roelof Bouwman, General Manager for ROE Visual Europe.
Working with ROE Visual products for a longer time, I have experienced what a great product it is. I'm very pleased to join the professional team at ROE Visual Europe and I'm happy to lend my market knowledge and expertise. ROE Visual is a well-recognized brand and has an excellent potential to sustain and grow the D A CH market region with superior products" comments Baum.
Erik Baum will join the ROE Visual Europe team during the Prolight+ Sound exhibition in Frankfurt. ROE Visual exhibits in Hall 4.0 C60.