ROE Visual Europe Expands Service Departments
Leek, The Netherlands, (25 November 2018) – With the recent expansion of its European warehouse ROE Visual Europe fulfils the need of its growing marketplace in Europe and the Middle East.
Enlarging its warehouse space for the third time in a relative short time frame clearly shows the development of the European market for large screen displays for ROE Visual Europe. "We have grown from 600m2 to nearly 2000m2 warehousing space over the last 2 years" explains Haise Veen, Warehouse Manager for ROE Visual Europe. "ROE Visual is a service-based organization, this means our customers can always rely on a high level of customer support. Its guaranteed by offering sufficient stock levels of LED panels, accessories and spare parts. Helping the customer is off main importance, we often go great lengths to get the equipment in place on time."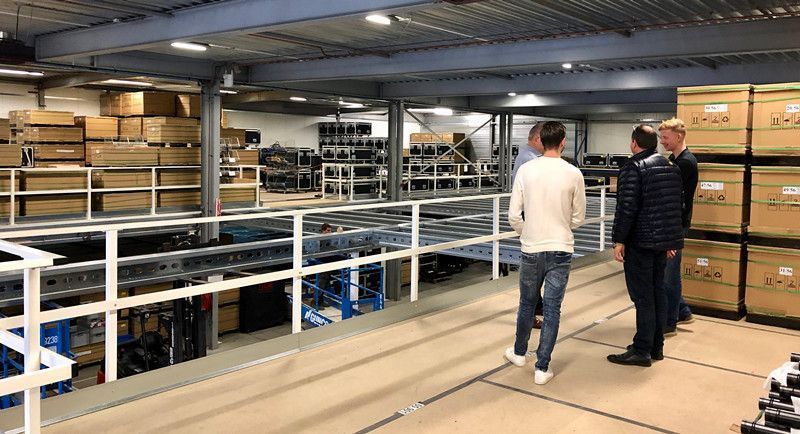 The current extension of the warehouse is part of a larger expansion plan. The second part was to extend the sales team, with the addition of Paris-based Emmanuel Pezant, technical sales support in this region is secured. He's an expert LED technician with a huge network.
The next phase is the extension of ROE Visual's Technical Department. "An important part of our customer support is based on the repair and maintenance service we provide", states Roelof Bouwman, Managing Director for ROE Visual Europe. "Due to the quality of our components our LED panels have a very low downtime rate. However, when they need service, we're able do most repairs within the required time. Apart from regular repairs, we also offer testing, re-calibration and other maintenance services when required".
"Although the LED industry is still young, we have experienced rapid growth and we see the market evolve and mature", continues Bouwman.
ROE Visual was founded in 2006, opening EU and US operations in 2014. From its inception Jason Lu, Founder or ROE Visual had a good understanding of how the entertainment market works; local service and sales support are paramount. The ROE Visual Europe team has grown accordingly from 4 to 20 employees.
ROE Visual Europe has a full-fledged service department that employs over 7 service engineers on a full-time basis. This growth is in accordance with the growth ROE Visual experiences in the US. ROE Visual US, led by Managing Director Frank Montero, has just expanded their warehouse and have opened an additional sales office Nashville.
ROE Visual serves large customers and rental houses and provides LED panels for some of the largest tours, festivals and broadcast productions.
"Keeping in close contact with our customers and users is part of our philosophy, regular feedback is vital to develop the right products and services. We don't sell products, we sell a solution. That strategy has brought us where we are now, ROE Visual has become the rental standard for large screens display solutions. Driven by this achievement, we strive to continuously improve our services", concludes Bouwman.