ROE Visual Delivers 70 Million Pixels for Hyperbowl Virtual Showroom
ROE Visual is selected as a preferred partner to provide all LED screens for the installation of a huge virtual studio in the Expo Munich, a concept by ACHT and NSYNK, realized by TFN incorporation with Fournell.
Trying to find alternative platforms for tradeshows and live events while the COVID-19 restrictions are in place for large scale events, companies are offering inventive solutions that involve a mix of live presentation with virtual audiences, so-called hybrid events. ROE Visual LED screens are increasingly used to create large, visual displays for these types of events, due to their perfect on-site as well as on-camera performance.
Early April, TFN set out to present their format to several interested parties, after which they were contacted by the Expo Munich. The Expo Munich fortified its interest, based on feedback from several of its clients, some of which from the automotive industry, and continued the conversation with TFN. The decisive factor being the Expo Munich providing a 10.000 sqm venue to build the virtual environment.
"With over 70 million pixels at work, excellent support before and during installation and setup is crucial"
The virtual studio could be employed at least till September 2021, encompassing the date of the annual car show, normally planned at this time. This interest in a virtual studio environment for an extended period, opened doors to look into the actual investments needed and parties to involve in the implementation and execution of the work involved.
Appointed to supply the LED screens and further technical infrastructure Fournell turned to ROE Visual to provide the screens for this project. With ROE Visual's sales representative Erik Baum based in Germany, the contact was easily established. "With short communication lines and extensive knowledge of the German market, this project has both been rewarding and fun to work on", comments Erik Baum. "I'm very pleased that a project of this scale kicks off in Germany, especially now, when the whole entertainment industry is suffering from the COVID-19 measures".
The virtual studio comprises of one continuous, huge curved LED wall of 5,5m. high, consisting of ROE Visual Diamond DM2.6 panels, divided into 80 columns, creating a circular event space with a diameter of nearly 40m. On top of the curved video wall is a LED ceiling, also composed of Diamond DM2.6 panels, supported with a huge trussing substructure. Thereby creating a seamless LED environment.
In order to make the whole structure compliant to the strict German safety regulations, special structural reports were issued for the ballast needed for the support wall and for the ceiling structure. Working closely with a German Engineering Bureau for the static calculations, building the complete set in compliance to the regulations proved to be no problem at all. Having full documentation available on all its products ROE Visual is capable of acting swiftly in this respect.
Following the first initial ideas and meetings, a demo was planned to see if the image quality, viewing angles and processing capabilities would meet the required demands. During the demo Fournell, the AV company, TFN, the technical planner, ACHT, responsible for content production, NSYNK, responsible for the set design and build and the advertising producer were given the opportunity for extensive testing, using cameras with different shutter speeds, etc.
All these tests resulted in a positive outcome, meaning most potential usages of the virtual studio being feasible within the demanding quality restrictions. The Diamond LED screen gave high scores on image performance on recorded short films, with the image looking "real and credible", viewing angles, and color representation. This resulted in a go for the studio set-up for broadcast applications and advertising studio usage as well as live events.
Before the final build, a team of LED technicians from FOURNELL was invited to the ROE Visual showroom in Leek to perform an initial training.
"The training really touched on all the basics, from how to build the stacking system, aligning the wall and all the specific tips and tricks that make building easy. It gave us the confidence to build the huge complicated, curved LED wall on-site", commented Nikolaus Schmidt, AV technician at Fournell. "The training was very interesting, Victor Kortekaas, Technical Director for ROE Visual, is an easy-going guy who really can explain the technology very well, he knows what it takes to makes things work on-site. This made the training to the point and fun! We have learned many new things about LED technology".
Schmidt continues: "The ROE LED screens are easy to work with, the high-quality of the wall makes setting up relatively hassle-free, even for this complicated and huge LED wall".
With over 70 million pixels at work, excellent support before and during installation and setup is crucial. Technical Engineer Tim Hamberg supported the team during the build with technical supervision, advice and support.
"The in-depth knowledge of the technical team at ROE Visual was indispensable during this project", Frank Förster, Managing Director for TFN. "Taking on a project of this scale without being able to rely on the unrelenting support of the LED screen manufacturer is inconceivable. ROE Visual have been instrumental and very supportive throughout the whole process".
The Hyperbowl studio has just opened its doors at the Expo Munich. Offering the largest virtual production space in Europe and working with partners like Unreal Engine, the Hyperbowl studio and welcomes live events, film and photo shoots and broadcast productions.
Products used:
1920 x ROE Visual Diamond DM2.6
10 x EV4 LED processing platform
20 x EVX10 distribution box
ROE Visual Stacking system for 40 columns of 5,5m high
Read the Article in Production Partner (DE)

Involved partners:
TFN is a dedicated technology planner for events, trade fairs, exhibitions and permanent installations. They develop logistics, control project processes, coordinate interfaces and monitor construction. With a team of specialist engineers and planners from all audiovisual disciplines they develop complete solutions.
ACHT has been transposing the traditionally clear German design language to the dynamic world of media ever since it was founded in 2003. Their clients are industrial enterprises, film production and advertising firms, and design agencies. As well as providing cutting-edge technical services, it is ACHT's unequivocal mission to create moving images that can ignite powerful emotions. With offices in Frankfurt, Hamburg and Berlin, they employ a team of over 70 visionaries, inventors, avant-gardists and technicians.
NSYNK is a studio for mixed reality storytelling, covering the whole range of mixed reality production services; from concept, script and storyboard to technical planning, content creation and production and ultimately also showcasing. Target platforms are stages for live audiences, broadcast, virtual production and apps. Creating various formats, NSYNK has broad expertise in all of the involved technologies – real-time and distributed rendering in game engines, camera tracking for broadcast and film, color space management etc. - and enables the project both technically and from a design perspective.
Munich based FOURNELL offers planning, technology, organization and implementation of all event types. Providing a competent and experienced team of project managers and specialists, they strive to deliver perfection.

Features
-Latest features from UNREAL ENGINE, optimized for real-time workflows and live adjustments of the environment
-Synchronized render pipeline for Augmented Reality and Virtual Reality productions
-Highly adjustable camera setup, including multi-camera scenarios
-Additional lighting for complex light situations

Technical details
-21m x 14m x 5,5m (LxWxH)
-2.6mm Pixel pitch
-500sqm LED surface area
-total pixel count: 70.483.968

More information:
Upcoming events
17 Oct.

LEaTCon Hamburg, Germany 2023

ROE Visual will showcase its latest LED products at the LEatCon 2023 in Hamburg, Germany. This networking convention for the Live Entertainment Industry is the perfect place to discover ROE Visual's ...
See all events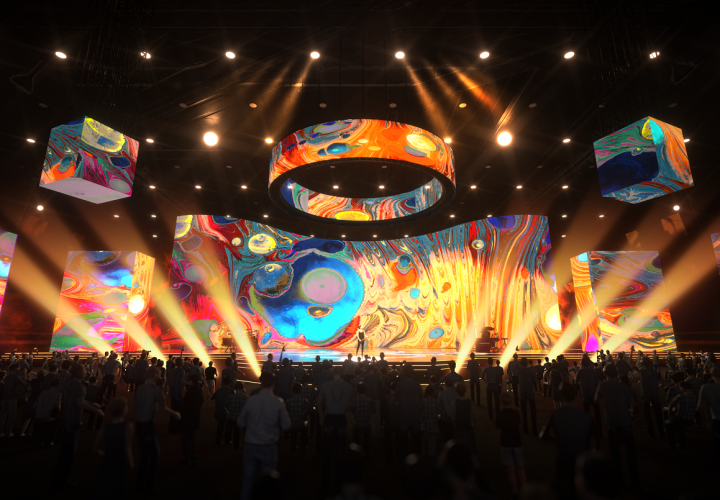 Latest news
27 Sep.

Introducing Topaz – The All-purpose Live Events Led Panel

ROE Visual is thrilled to unveil its latest innovation, the Topaz Series, a groundbreaking addition to its LED panel lineup.
See all news