ROE Visual Awarded at WFX Expo 2018
Chatsworth, CA (28 November 2018) – Presented by Worship Facilities Magazine and Worship Tech Director, ROE Visual received the prestigious New Product Award for its Diamond DM2.6 LED panel during the WFX Conference & Expo in Orlando. The Award recognizes manufacturers of products that stand out as a benefit to churches of all sizes and styles.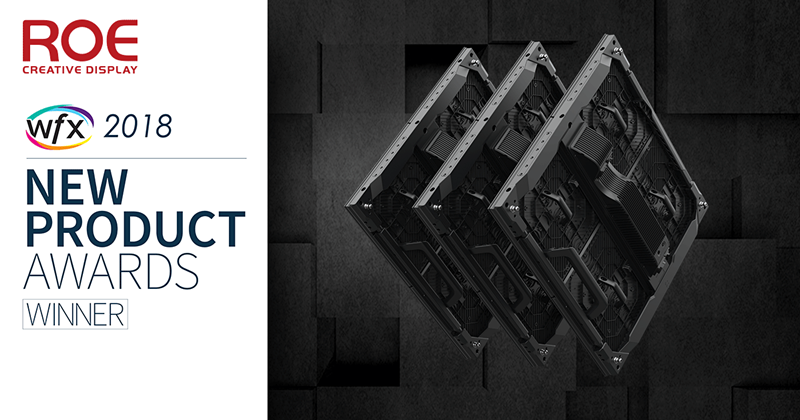 With the New Product Award for its Diamond DM 2.6 LED panel, ROE Visual adds another award to its much-lauded product portfolio, showing that true innovation and a strong R&D drive can make all the difference for leading manufacturers.
The 18 New Product Awards winners for this year were determined by a panel of 15 judges, each of whom currently works for a house of worship or have done so recently. Each nominated product had at least five judges to determine the quality of the nomination.
The ROE Visual Diamond DM 2.6 is a 2.604mm pixel pitch, ultra-lightweight LED display suited for indoor applications. The Lightweight magnesium alloy frame ensures extreme durability. DM 2.6 is an ideal cost-effective LED display solution for large events, concerts, exhibitions, TV studios, lecture halls and houses of worship.
Key to the judges' decision was the vibrant color that the DM 2.6 offers, even in low brightness situations and without need for grayscale reduction. DM 2.6 offers 1,500 nits at maximum brightness, making it an ideal choice for indoor applications. The black SMD LEDs are visible at almost any angle.