MHB uses ROE Visual for Freeks Saturday Night Safari
Experience the Power of Virtual Production for Broadcast
Leek, The Netherlands (25 June 2023) - Commissioned by Medialane, MHB supplied video equipment for a broadcast production centered around Netherlands' most famous biologist and professor, Freek Vonk. The virtual show played a crucial role in this production, while ROE Visual LED panels were used to create immersive visuals.
The television production uses a typical virtual production setup based on ROE Visual LED walls and a LED floor, allowing the notoriously dynamic and enthusiastic Freek Vonk sufficient space for immersive storytelling, taking the audiences to the studio and home to spectacular landscapes, using XR, AR elements and set extensions. This setting enables Freek Vonk to suddenly appear in the middle of the desert or the rainforest. Using Augmented Reality (AR), animals are projected at full size, making it possible to interact naturally with a gigantic buffalo or a life-threatening jaguar.
"ROE Visual's products perfectly fit our drive and passion for delivering outstanding audiovisual experiences"
Using innovative AV solutions, MHB takes pride in bringing ideas to life through state-of-the-art technology. With a team of experienced professionals and a commitment to excellence, MHB ensures that each event is a memorable and immersive experience for all attendees.
Netherlands-based MHB specializes in providing high-quality audiovisual solutions for various events. With over ten years of experience, MHB offers comprehensive services for both indoor and outdoor productions, including exhibitions, sports events, theater productions, festivals, and corporate gatherings. With a no-nonsense mentality and a commitment to excellence, MHB strives to deliver outstanding AV experiences that surpass client expectations.
MHB's dedication to staying at the forefront of industry trends and technologies allows them to deliver superior results consistently. "We have invested heavily in a range of ROE Visual LED solutions. We love the quality of these products. For this project, we used our recently acquired ROE Visual Black Marble LED floor in combination with Diamond DM2.6 LED panels. The products from ROE Visual perfectly fit our drive and passion for delivering outstanding audiovisual experiences," states Marten Hylkema from MHB.
17 Oct.

LEaTCon Hamburg, Germany 2023

ROE Visual will showcase its latest LED products at the LEatCon 2023 in Hamburg, Germany. This networking convention for the Live Entertainment Industry is the perfect place to discover ROE Visual's ...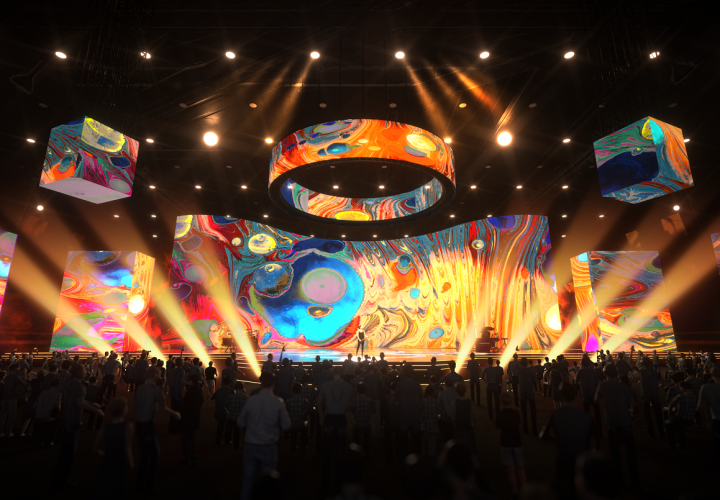 27 Sep.

Introducing Topaz – The All-purpose Live Events Led Panel

ROE Visual is thrilled to unveil its latest innovation, the Topaz Series, a groundbreaking addition to its LED panel lineup.