Studio 45 Set up an Immersive Studio with ROE Visual
ROE Visual Amber LED panels create immersive visual experience for Studio 45
Shenzhen, China (2 November 2020) – Studio 45 has recently completed the installation of a high-end studio for audio and video productions, including a wall-to-wall LED screen built from the ROE Visual Amber LED platform for fixed installation.
Studio 45 is a Hong Kong based post-production studio, which offers a full-equipped workspace enabling its customers to execute audio visual projects and events.
Designed as a home away from home, Studio 45 is exclusively available for artists and producers. The intimate and contemporary space is designed to encourage visitors to focus on their projects, offering Dolby Atmos® technology to showcase the highest-clarity studio audio and best-in-class HDR visuals. The studio is a dream for audio/video mixing as well as programing and preparing A/V shows such as corporate events, festivals, DJ sets, VR and virtual events.
Studio 45 selected the ROE Visual Amber LED platform for this workspace, based on the excellent visual quality of the platform and its outstanding characteristics.
The Amber LED platform offers a fine pitch video solution for exacting environments, like boardroom, broadcast or control room applications. The Amber LED panels have a native 4K ratio with different pixel pitches, the LED panels supports HDR technology, offers added greyscales, high refresh rates, and a superb color depth.
From the initial design phase of the studio, Dave Bateman of Bateman Consulting Ltd in Hong Kong was involved as a consultant for the video wall. Just before the final installation in Hong Kong, the screen set-up was inspected at the ROE Visual's factory in Shenzhen.
"Conducting the factory acceptance test (FAT) for Amber screen was a real pleasure. Since the requirements were challenging due to extreme sonic vibrations, the angled side-wings and gaps for the audio systems, it was a good thing to do. The manufacturing, FAT and installation were all performed on a highly professional level. Meeting our expectations and standards ROE Visual was able to provide the perfect solution. The result is a spectacular screen, installed at the studio", states Dave Bateman of Bateman Consulting Ltd.
Offering a stunning 1,5mm. fine pitch HDR LED panel, the Amber LED panels were combined to build an immersive wall-to-wall LED screen, measuring 8.4m / 27.5 ft and a total of 6 million pixels. This configuration allows studio users to work with real-time media playback and video mapping.
The studio requested full HDR video support and the combined result of the ROE Visual panels and Brompton Technology processing is very impressive. The combination of a Tessera SX40 LED processor and the ROE Visual Amber LED panels offers fantastic color depths and details at very low brightness, living up to the strict requirements for this installation.
"Collaborating with Studio 45 to build an immersive studio for them was an amazing opportunity for us. No matter the requirements or the project limitation, at ROE Visual we always try to find a fitting solution", comments Glory Gao, Deputy Sales Director for ROE Visual.
Equipped with the Amber video screen, the studio is not only perfect for immersive audio and video productions, but also great for digital cinema and will offer the perfect canvas to create and test a variety of visual designs.
Product Used:
More Information: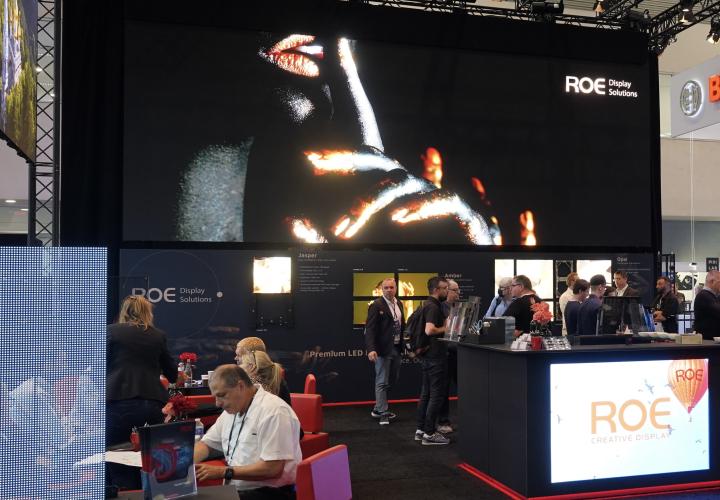 31 Jan.

ISE Exhibition Barcelona, Spain

At the 2023 edition of ISE ROE Visual will showcase a range of dedicated products for the AV Integration and live events market. Discover ROE Visual's new and innovative product lines and LED technolo...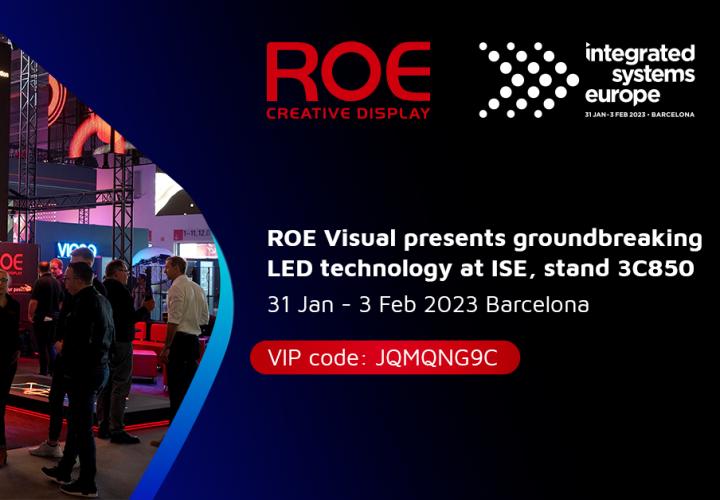 12 Jan.

ROE Visual Brings Innovative LED-based Solutions to ISE

With a range of new LED-based solutions and products to showcase, ROE Visual is gearing up for a blazing ISE Exhibition in January 2023. Providing an excellent platform for its cross-over audience to ...