HELIOS LED Processing Platform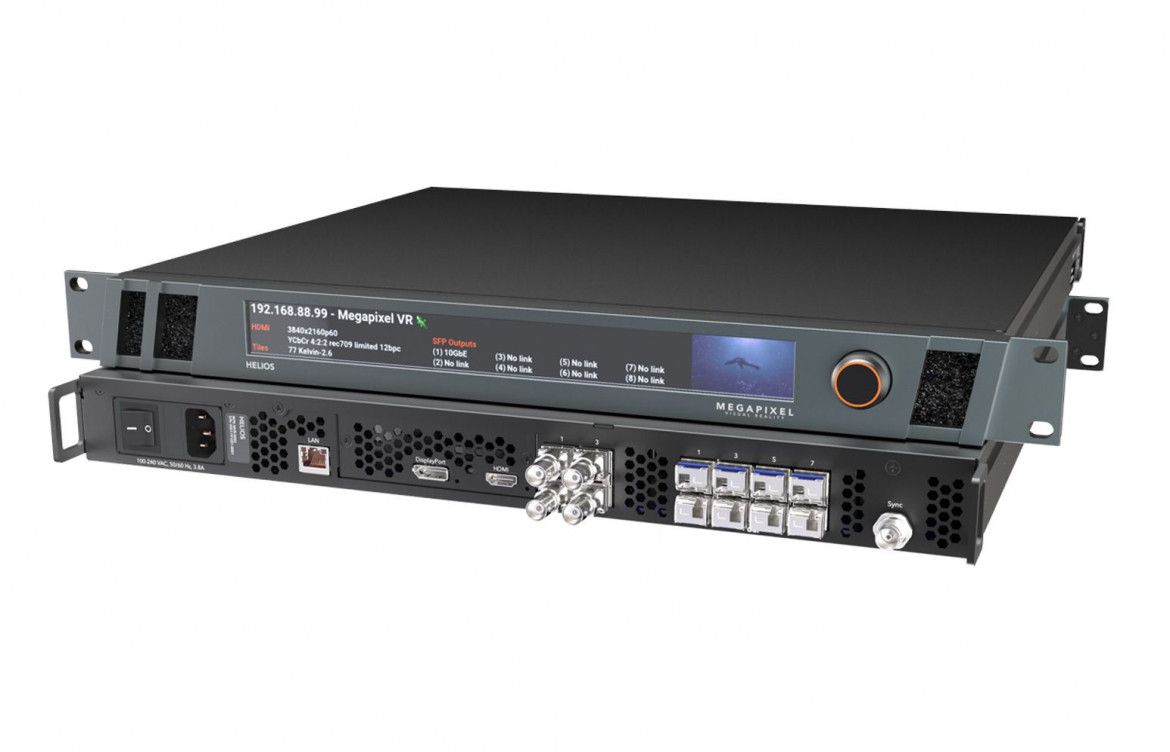 Future-ready LED Processing
The HELIOS LED Processing Platform is the result of close cooperation between ROE Visual and Megapixel. Combining their forces and in-depth knowledge of LED- and processing technology the result is a future-ready Processing Platform that reimagines processing from the ground up to support large-format LED displays for use in demanding pro AV, broadcast and installation applications. The HELIOS Processor will be exclusively available for ROE Visual LED screens.

Superior Color Performance
A significant advantage for HELIOS, is the dynamic color gamut re-targeting capabilities, which do not require panels to be recalibrated. Besides that, the HELIOS Processing Platform has extremely accurate color representation throughout the entire gamut and brightness range and has accurate end to end color management. Panels can also be run at 10-bit grayscale for projects requiring less distribution infrastructure or at 12-bit for the best image quality.
Light Science Toggle
Low light levels can be challenging for LED displays and cause banding. HELIOS can improve the visual appearance of these dark regions of the video signal. This function must be supported by the panel type in order to work.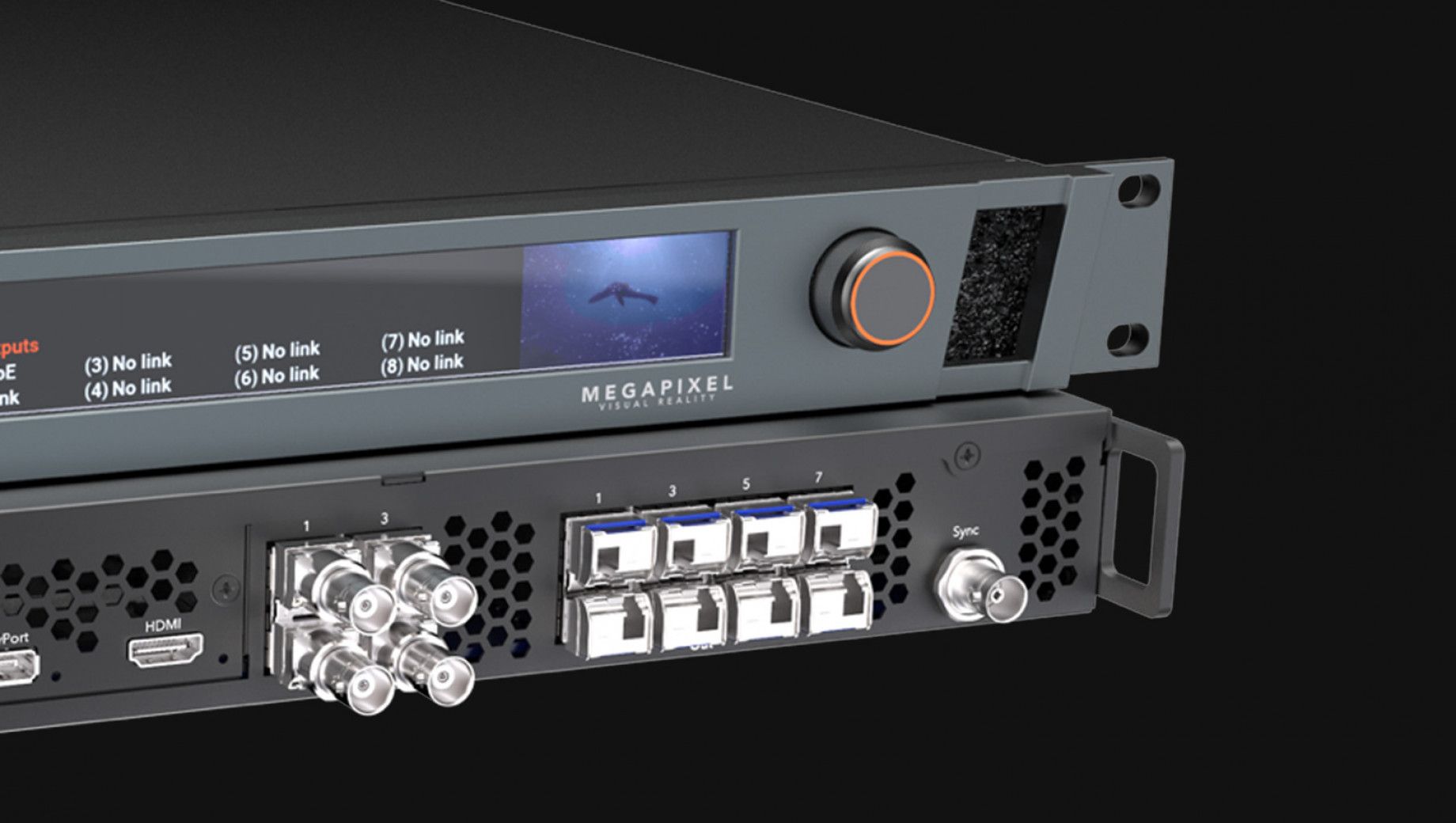 HELIOS specs
Full 8K video pipeline
Display Port 1.4
HDMI 2.0
Up to 4x 12G SDI inputs
Fiber Distribution (80Gbps)
Redundant power supply
1RU
100G ST 2100 input card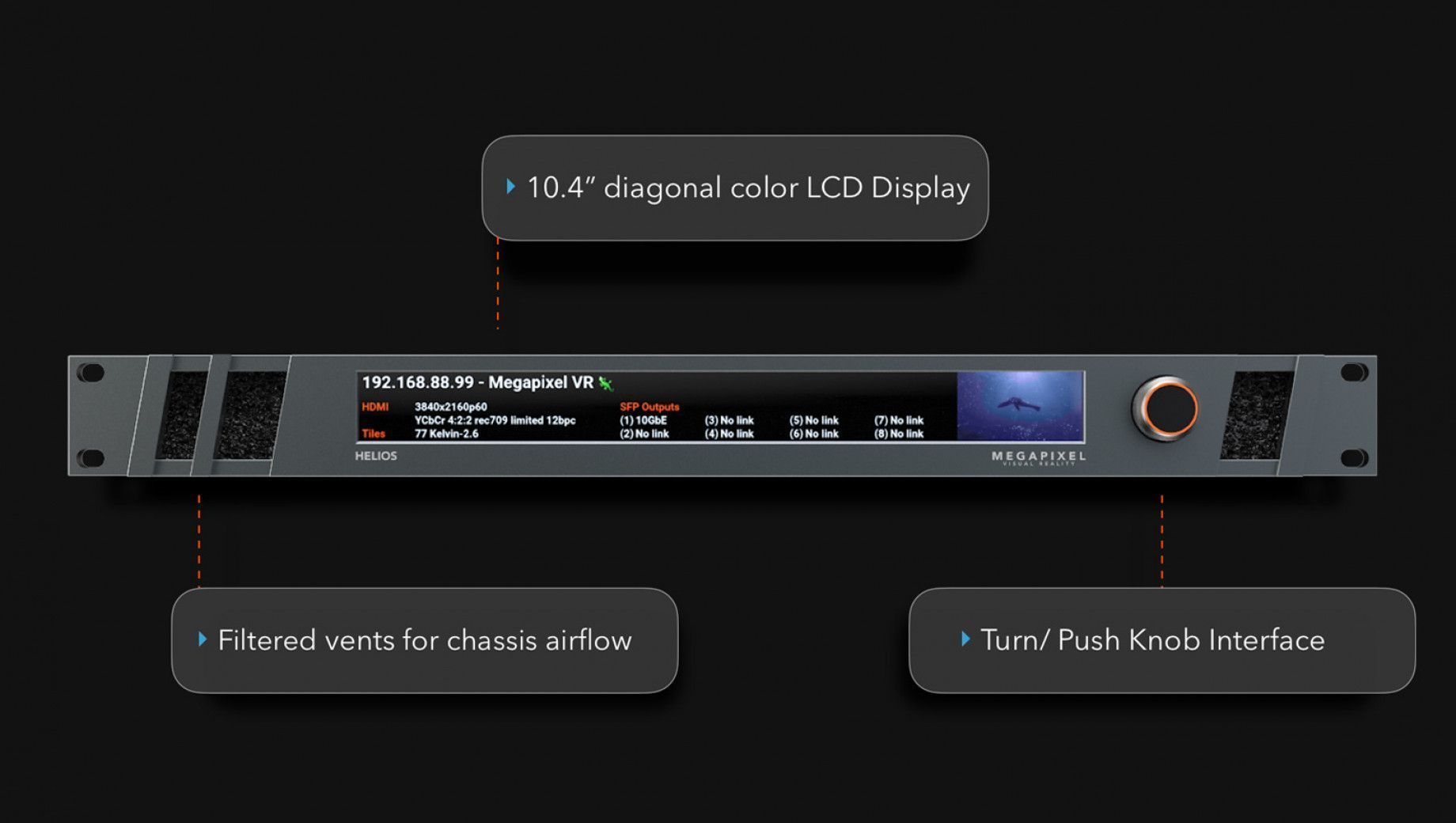 HELIOS Front Panel
The front panel LCD provides quick and easy access to a range of information with a press of the front knob. Quickly find the processor's IP address, active input resolution, and port status, or preview incoming video thumbnails.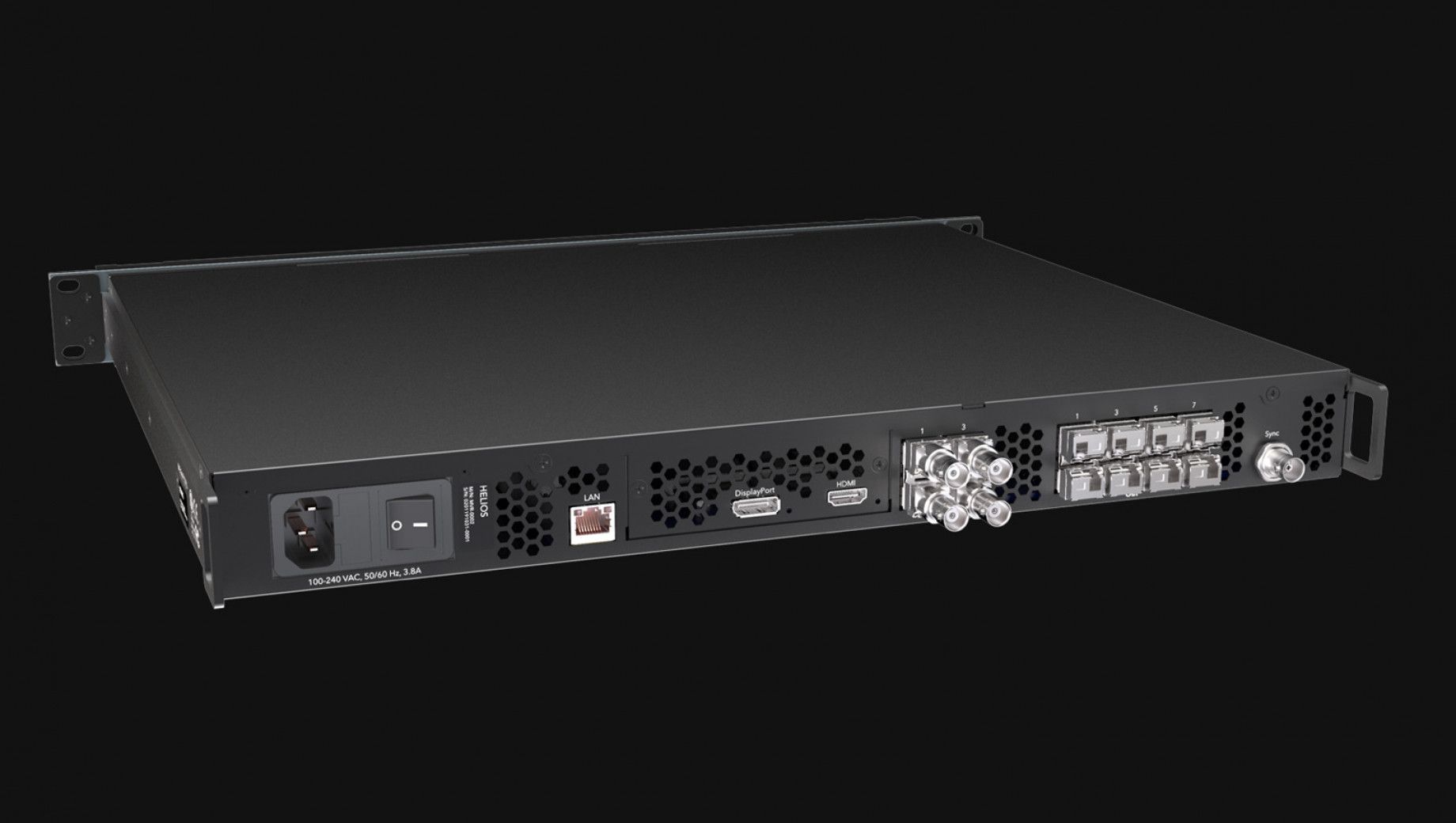 HELIOS Rear Panel
Redundant power supply
LAN Control Port
Video Inputs: DP, HDMI, SDI
Display Outputs: 8x SFP+ Ethernet Ports
Sync Input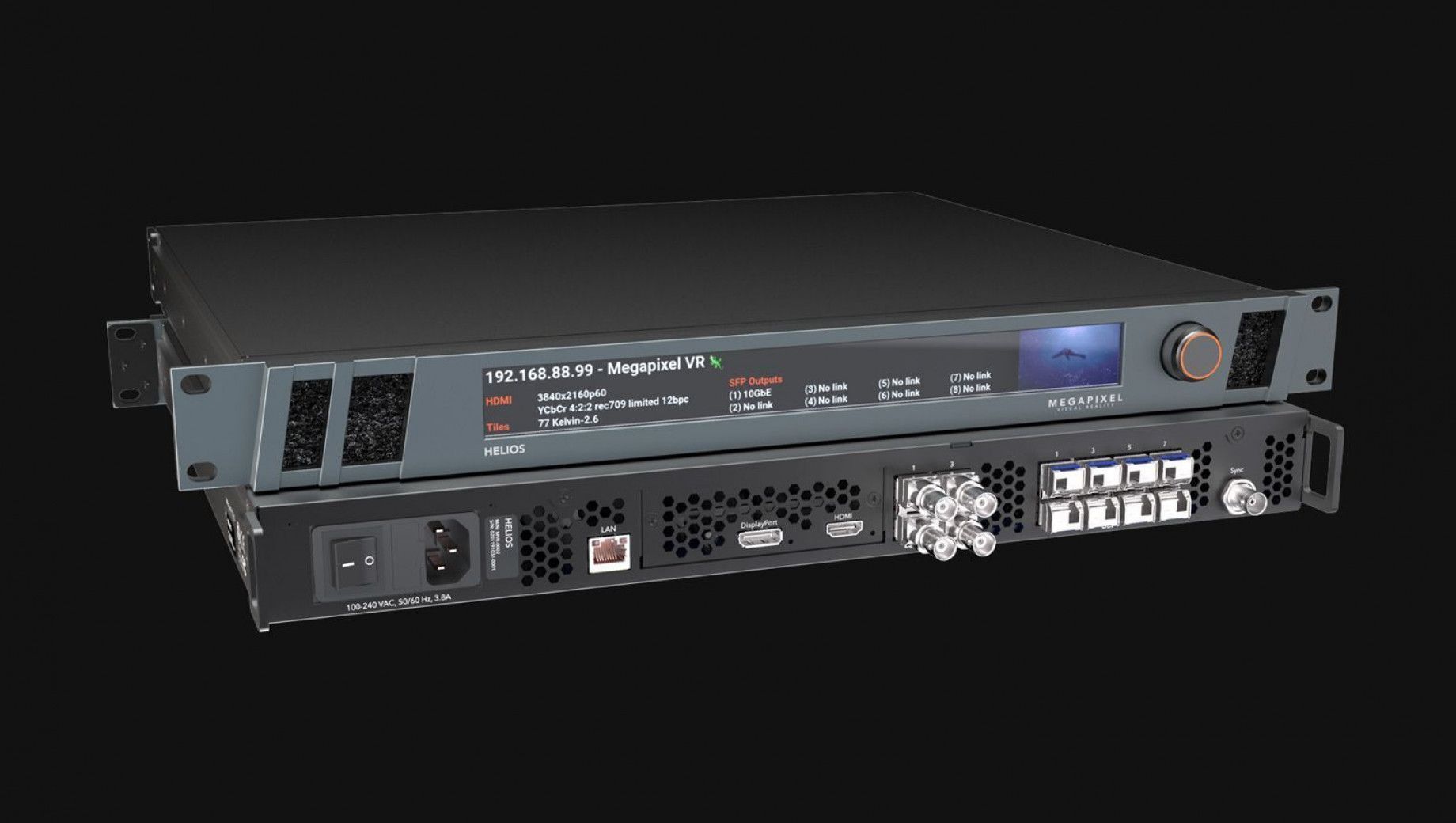 Why HELIOS?
High Performance
Modular
Multi-use
Expandable
No recalibration needed
Flexible
Robust API
Realtime Health Monitoring
Web Control (no software required)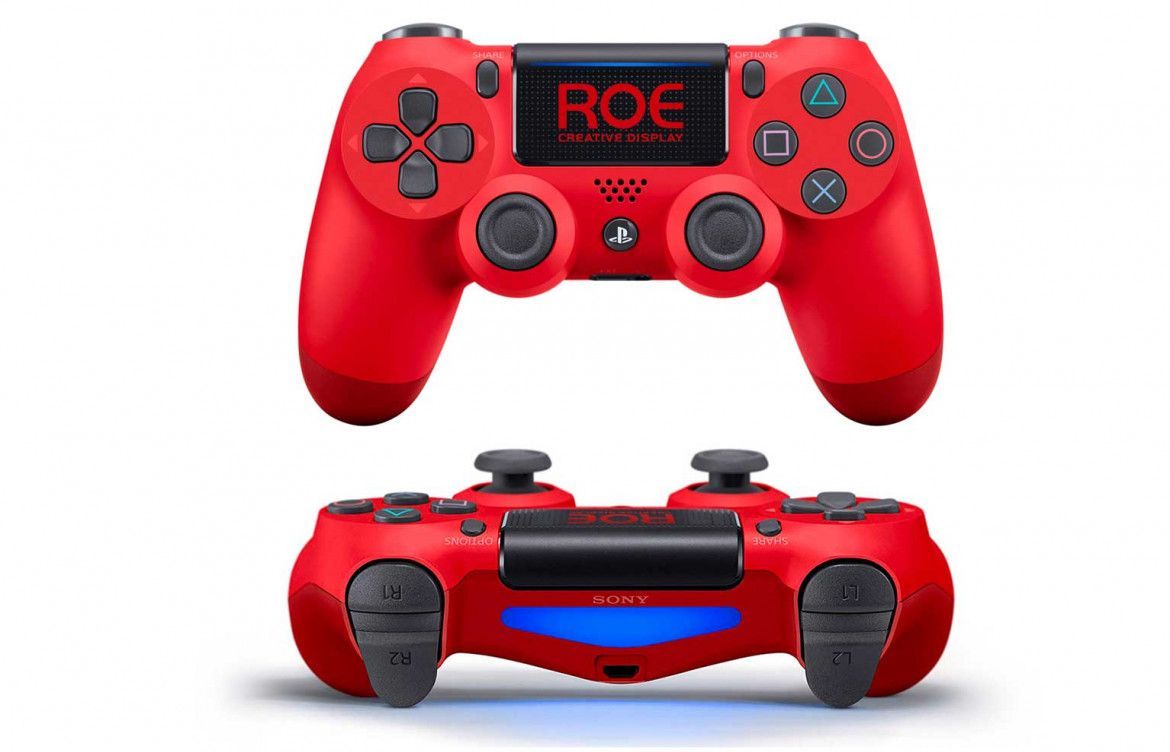 Hyper Speed Seam Correction
HELIOS supports standard game controllers to quickly identify and adjust module-to-module seam correction (sometimes referred to as edge adjustment). Game controllers can be connected via USB or wireless Bluetooth.
Due to the multi-user backend, multiple technicians can connect and adjust seams simultaneously on a large screen.


Virtual Production, XR, and Broadcast Ready
Virtual Production, XR, and Broadcast Ready
Including state-of-the-art features specifically designed with virtual production in mind, HELIOS provides the most advanced In-Camera Visual Effects tools to accelerate your workflow.
HELIOS NanoSync
Next-Generation Genlock - The HELIOS NanoSync feature gives you the most accurate sync control of your LED screen. HELIOS synchronizes the actual light output of the LED panel to the timing source, and now users can enter offsets by the nanosecond. This way of handling genlock creates enormous advantages for broadcast and camera work. Enabling this level of fine-tuned control allows the LED display to refresh in perfect timing when using rolling shutters and film or digital camera sensors.
Ultra-Low Latency
Ultra-Low Latency Mode - HELIOS controls timing accuracy in the display system, no matter the source. HELIOS Ultra-Low Latency allows for as low as one frame of delay through the entire system chain without the need for custom EDIDs or high frame rates from the source. The low latency provides an ideal solution for visual effects combined with moving tracked cameras, enabling better synchronization between the live-action and the virtual set.
Unprecedented Greyscale
Greyscale Performance - HELIOS manages greyscale at incredibly low light levels, maintaining a high-scale bit depth all through the system. The amount of detail offered with 22 bits of greyscale is unprecedented; a significant benefit in virtual production, where you want to maintain the bit depth and quality of the source on the screen and eventually on-camera. Preserving a high greyscale range at low brightness requires enormous processing precision. Megapixel VR's PX1 receiver card is at the heart of this quality and accuracy, resulting in more image detail.
Full 8K video pipeline
DP / HDMI / SDI inputs
Reduntant Power
Superior Color
No Software Installation Required
Monitoring & Diagnostics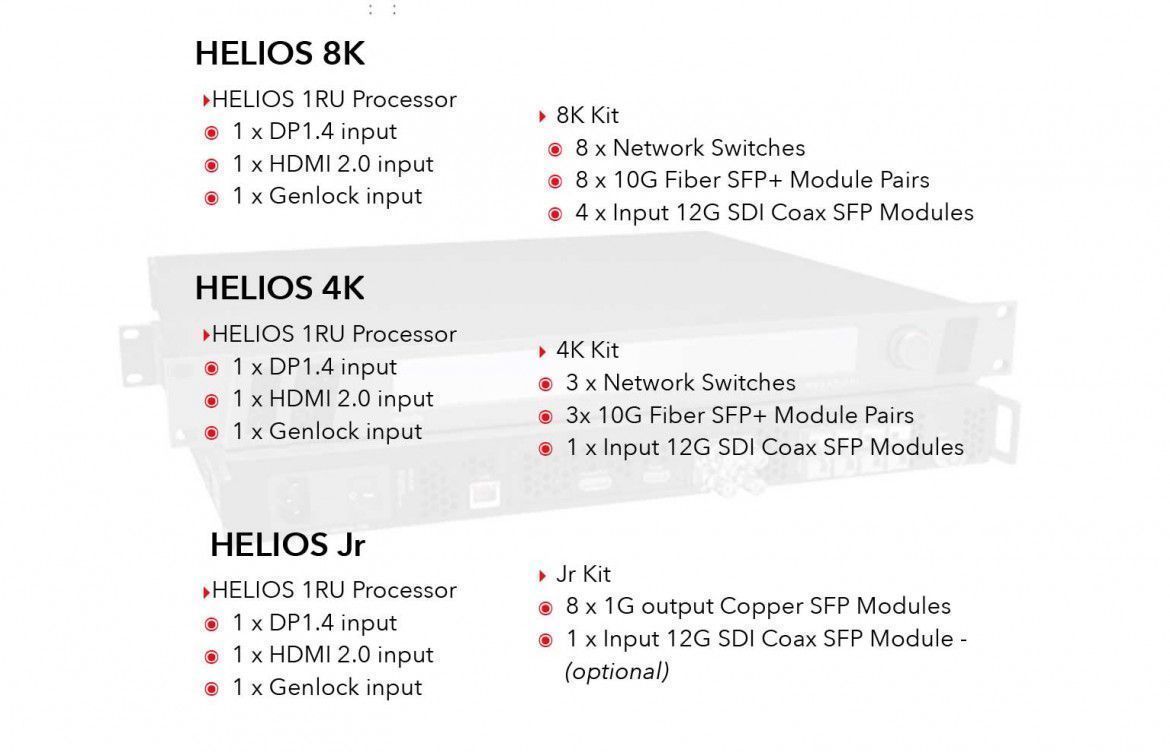 HELIOS modularity
HELIOS modularity allows the system to grow with your processing needs. The HELIOS system is designed and build as a true growth system. No additional hardware is needed to scale up in resolution, the HELIOS footprint remains the same for HD, 4K, 5K or 8K applications.
The HELIOS LED Processing Platform is available in 3 packages: HELIOS Jr., HELIOS 4K and HELIOS 8K. Starting with a Junior package, you can easily grow towards a full 8K system.

Modular. Customize your input and output configuration to meet your specific needs Expandable. Easily adapt your processing capabilities as your resolution requirements increase.
Title
Inputs
Support input resolution 8 bit
10 bit
Output ports
Fiber
Control ports
Loading capacity
Max width/height
Splice function
Zoom function
Brightness adjustment
Chromaticity adjustment
Color gamut transformation
Gray scale at low brightness
Pip function support
3D display
GEN lock
GEN lock loop
Power in
Weight
Height
Helios-8K
4 x SDI / 1 x HDMI 2.0 / 1 x DP1.4
8192 x 4320 60 Hz
8192 x 4320 60 Hz
72 RJ45 / 8 distributor
8 x 10G single mode
1 x 1G Ethernet
34 Million pixels
8192 / 4320
-
Y
Y
Y
Y
Y
-
-
Y
-
IEC
3,9 kg
1U