ROE Visual for Marco Borsato - Largest Live Music Video LED Canvas Ever
Claiming to have installed the largest video canvas ever for a live music performance, Faber Audiovisuals realized a remarkable job for Marco Borsato in de Kuip.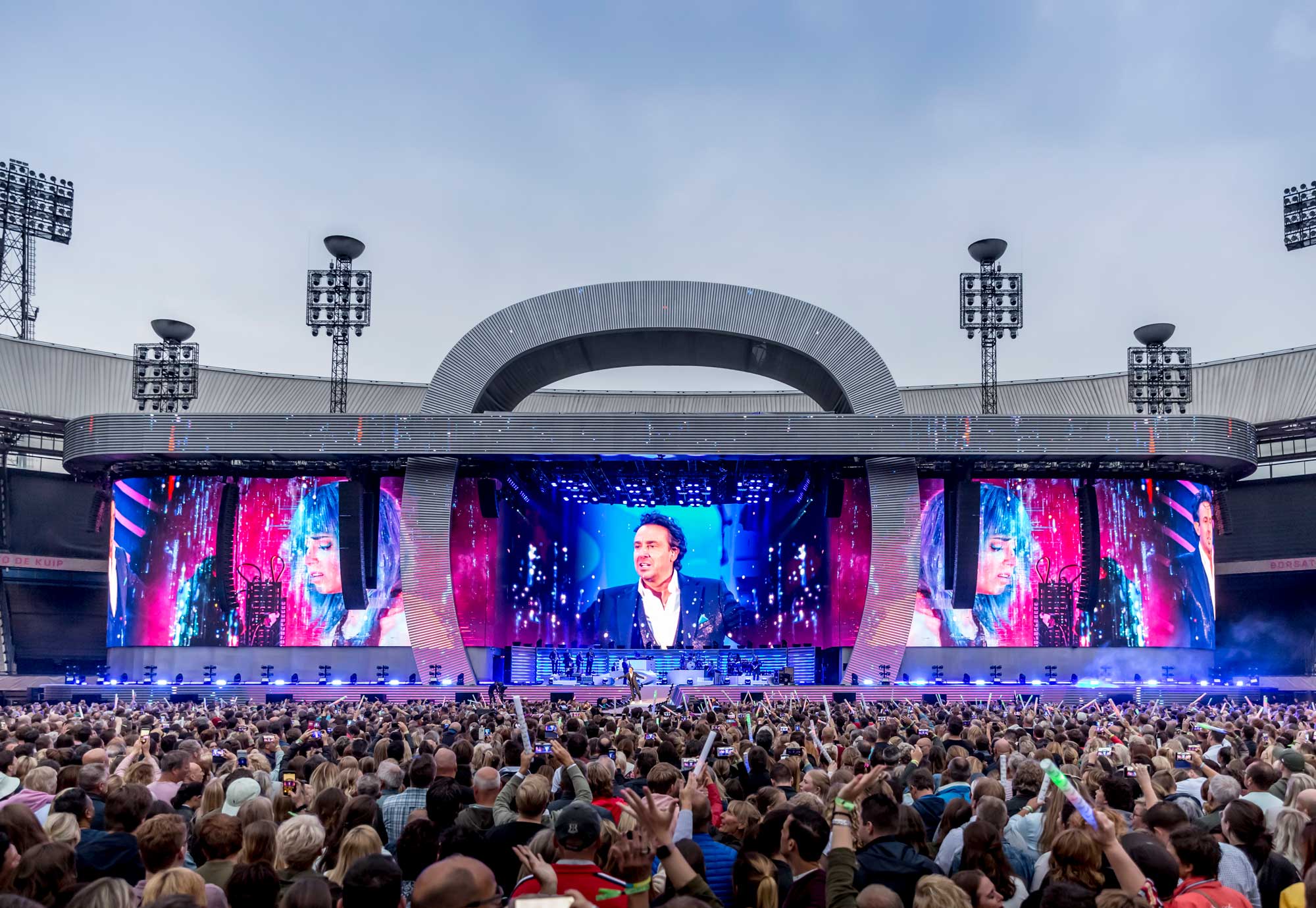 Dutch artist Marco Borsato returned to the Kuip in Rotterdam after a 15-year break, with a video-heavy performance. With guest artists like André Hazes, DI-RECT, Davina Michelle and Armin van Buuren this show was designed to be the biggest spectacle of the year.
"The LED screens had to be ROE Visual CB5s because it's the best screen out there, there's no doubt about that"

Commissioned by MOJO and Musica è, Faber Audiovisuals provided a monumental production package including 1,000m² of ROE Visual Carbon CB5 LED screens, 4,000m of ROE Visual LED Strips, and ROE Visual Evision controllers.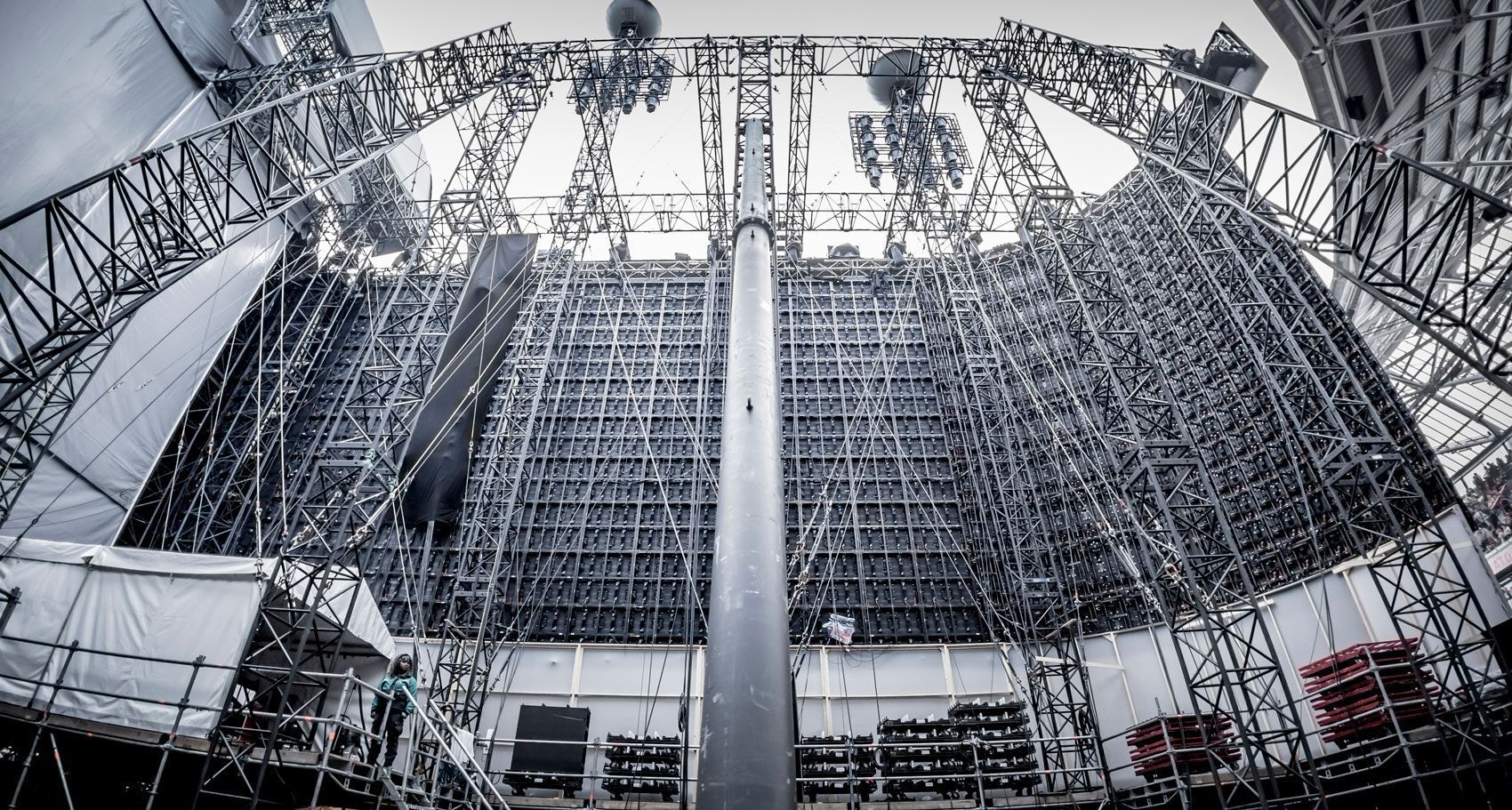 As Ben Augenbroe, project manager for Faber Audiovisuals comments: "The show, as designed by Carlo Zaenen, was entirely LED. We had to make a translation of the design that fitted the height of the venue and took environmental influences into account, after all, it's an outdoor show".

In order to accomplish this, all LED strips were pre-fitted on boards that could be easily mounted to create the arched structure while in the venue. "This gig took quite some pre-production to make the actual build feasible", Agenbroe continues, "the total weight of the LED equipment alone is 14 tonnes".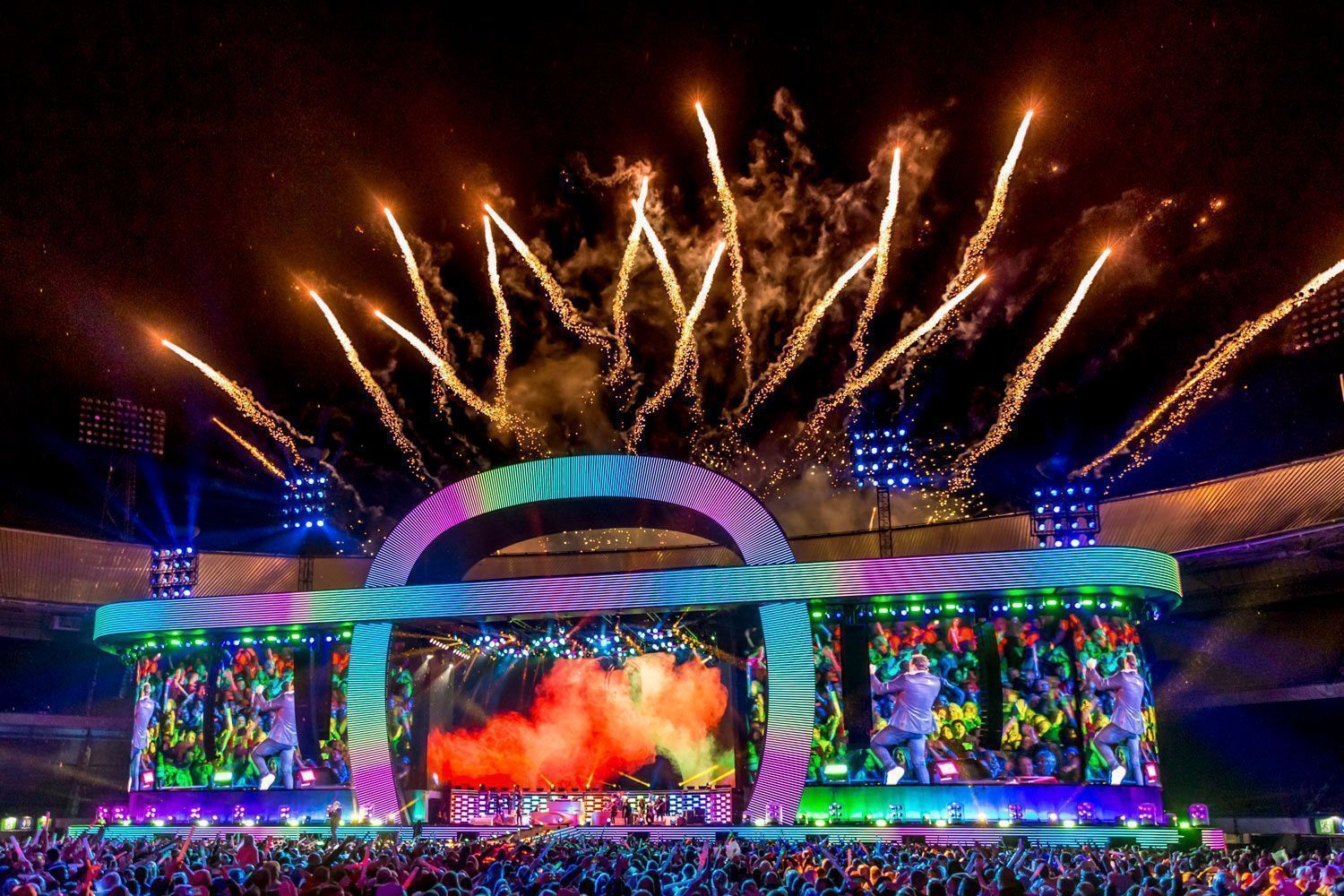 What stands out while in the backstage area, is the total lack of stress, the whole atmosphere is relaxed, friendly and "everything under control". Augenbroe reflects: "It's truly one of the best shows I've seen, as soon we see the crowd walk through the doors it makes it all worth it. It was a long and often heavy road, but I'm really pleased with the outcome. The entire team has put in a lot of effort to achieve this feat. We have a large team here, for all the disciplines, but the cooperation has been excellent"

ROE Visual Technical Engineer, Victor Kortekaas comments: "For projects of this scale, it is nice to be involved in the background at an early stage, so we can provide the best solutions as a manufacturer. We support in the background, in this case, we provided additional help in setting up the processors, ultimately, our role is being of service to our customers, so they can deliver a good performance in the field. It's about the total package, the cooperation between companies that make or break a production. We are really proud to be the engine that drives our customers' projects."

Malf Media's Michael Al Far, responsible for the content design, states: "ROE Visual LED screens are fantastic, because we're going from daylight to night in an outdoor venue the video screen is essentially the nucleus of the show. The quality and the size of it is paramount. The LED screens had to be ROE Visual CB5s because it's the best screen out there, there's no doubt about that."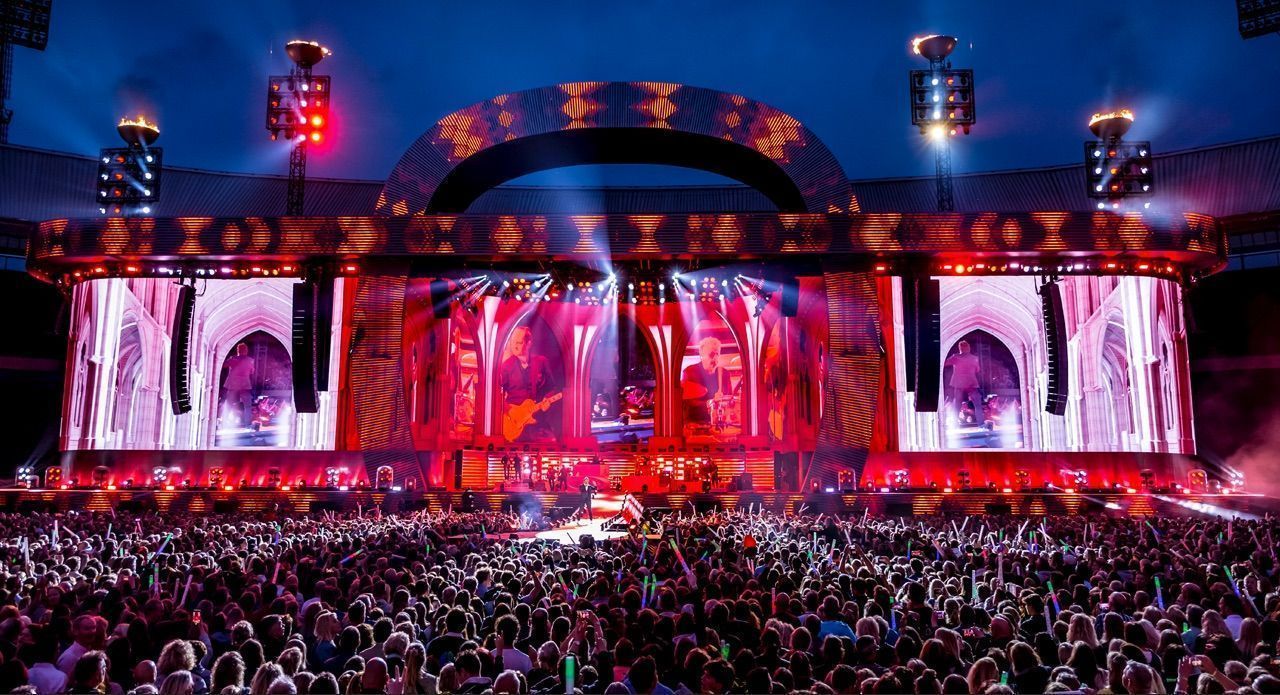 "Everything had to be up to par technically, and ROE Visual and Faber Audiovisuals have been excellent in providing us that," Al Far continues: "This is one of those projects where 10 years from now we'll be talking about the fact that 250,000 satisfied customers came to De Kuip over five nights and walked away happy. Simply put, Marco Borsato knows how to throw a party!"

More info:
www.borsato.nl
www.faber-av.com
www.roevisual.com
www.visual-solutions.be

Products used:
• 1000m2 ROE Visual Carbon CB5
• 4000m. ROE Visual ROE Strip
• ROE Visual Evision controllers
• 6 x Disguise VX4
• 4 x Disguise GX2
• Data distribution system for content distribution
• 1 x technical container holding all the technical racks with CCU's, media servers, Signal Routing etc.
• 2 x containers joined as 1 big control room for video/camera directors
• An awesome team of AV techs
Upcoming Events
17 Oct.

LEaTCon Hamburg, Germany 2023

ROE Visual will showcase its latest LED products at the LEatCon 2023 in Hamburg, Germany. This networking convention for the Live Entertainment Industry is the perfect place to discover ROE Visual's ...
See all Events
Latest News
21 Sep.

Novatech Brings ROE Visual to World Heritage-listed Stage

Now or Never, a new major festival in Melbourne, took place at the Royal Exhibition Building, one of only a few World Heritage Sites in Australia. This historic venue had not hosted any major contempo...
See all News