VUFINDER STUDIOS SELECTS ROE VISUAL FOR ITS VP STUDIO Creating a Significant LED Volume in Poland
Shenzhen, China (November 2023) - VuFinder Studios just launched its new studio, boasting to be Poland's largest Virtual Production LED Volume. ROE Visual was selected to provide the LED solution for this studio, supplying the renowned Black Pearl BP2V2. Strongly focussing on delivering the best quality and an incredible customer experience, VuFinder and ROE Visual collaborated intensively to bring this impressive installation to life.
VuFinder Studios is a leading expert in virtual production, providing cutting-edge solutions at the intersection of film production and game development. Since its establishment in 2022, the studio has already completed more than 30 commercial film productions for world-class brands, such as BMW, One Plus, Veet, and Bosch.
For the studio, ROE Visual supplied over 160 sqm of Black Pearl BP2V2 LED panels, built at a 3-degree angle, all powered by a HELIOS LED processor. The LED volume is the central workspace in VuFinders' impressive 600sqm studio. Providing a total solution for the studio, groundstacking, and cabling were part of the complete delivery.
"We were impressed by the sheer quality of ROE Visual's Black Pearl BP2V2 LED solution, which features in so many LED volumes globally. The high-end specs, color accuracy, and unrivaled on-camera behavior make it a fantastic LED solution. The immersive and dynamic visual effects of the total LED volume make it a great environment to work on, for actors as well as the film crew," says Melania Kulczycka, Founder and Client Services Director at VuFinder Studios.
"As we started to investigate the possible options, we found the BP2V2 has been adopted by most of the world's largest virtual production studios, such as NantStudios and Amazon Studio. We quickly realized ROE Visual's LED solutions could make a difference for our studio and offer our client base a reliable, high-end solution. After closely collaborating on this installation, our choice for ROE Visual has been strongly confirmed. Their support throughout the entire project was incomparable and has been instrumental in the entire project."
VuFinder Studios created a modular LED wall with the BP2V2 that can be customized to fit the specific requirements of various projects. With the inclusion of the Mo-SyS StarTracker camera tracking system and RTX A6000-based rendering servers, the LED wall empowers VuFinder's experienced designers and producers to fully unleash their creativity and deliver reliable and innovative solutions to customers.
"Thanks to our collaboration with ROE Visual, we have access to the most advanced solutions in virtual production. The synergy between the VuFinder Studios team and the excellent products and services provided by ROE Visual allows us to create incredible visual experiences for our clients," continues Piotr Talaj, Managing Director and Executive Producer at VuFinder Studios.
"Working with the highly motivated and professional team at VuFinder Studios was a great experience. It's great to have established this industry-leading virtual production studio in Poland, bringing the technology to a new generation of filmmakers in Eastern Europe. It's great to expand our presence in the Polish market with such a ground-breaking installation", states Grace Guo, Sales Director at ROE Visual.
About VuFinder: VuFinder Studios is a virtual production studio operating at the intersection of film production and game development. Their cutting-edge technology enables real-time image rendering. The studio uses the Unreal Engine 5.2 computer game engine to create virtual worlds displayed on ROE Visual LED screens. The studio operates as part of a group of specialized companies centered around OTO Film. They have completed over 50 projects for interational markets including france, Germany, the USA, the UK, and many others.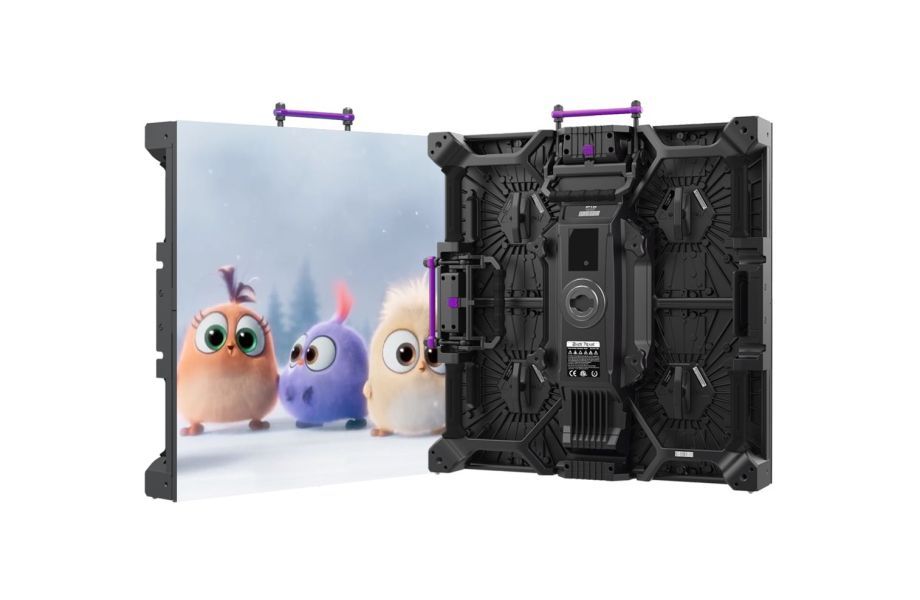 BP2V2
Black Pearl BP2V2 is renowned for its high-end specifications, precise color accuracy, and unparalleled on-camera performance. BP2V2 is widely embraced by the world's top virtual production studios, such as NantStudios and Amazon Studio.