Spies und Schwarz select ROE Visual for new Live Stream Studio
Diamond LED meets demanding requirements
Spies und Schwarz selected ROE Visual products to outfit their new Live Stream Studio in Munich. Choosing ROE Visual Diamond LED panel for its excellent small pitch LED performance and modularity.
Spies und Schwarz is an event agency for live communication. Over the many years of their existence, they have completed successful campaigns for their national and international client base. Providing their clients with creative turn-key incentives and branding events they're quick to adapt to new technologies to be able to service their clients on a consistently excellent level and add value with their profound expertise.
"The idea to adopt some of the latest technologies, like the virtual stage, came as a direct reaction on the COVID-19 restrictions", comments Philipp Schwarz. "We're constantly seeking to find solutions for our clients and a live stream studio would open new and safe ways of communicating for our clients. Once the idea took form, we set out to find the right partners to supply the technologies and products needed to make it work on a level we felt could secure the exacting demands of our clients on the one hand, but would also guarantee fast, high-quality and efficient workflows for our team".
The 420 sqm large Live Stream Studio in Munich is an accessible and secure platform for any company messaging worldwide, target group-specific and in real time. The studio is further equipped with the most modern video technology, providing a LED canvas of over 4,5 million pixels and HDR-ready 10-bit processing technology.
ROE Visual provided the LED products for the curved, modular video wall. In total 128 panels of Diamond DM2.6 are used to create a screen measuring 9x3,5 meters. For the processing, the eV4 processor is used.
"Selecting ROE Visual to deliver the LED products felt like a natural choice for us. Because we are dedicated to delivering the best solution for our clients, we expect the same from our suppliers. ROE Visual fitted this picture perfectly; not only do their products have a high-end performance and deliver great on-camera results, but also their technical service during the installation was very supportive", comments Philipp Schwarz.
"During the testing phase, we have rented a batch of Diamond LED panels and did some initial try-outs. It was really helpful to have this experience before we had to decide on the final investment. Having discussed our wishes with ROE Visual, they informed us that by buying products with the similar LED batch, we can rent extra LED panels at all times, if we need a larger wall, that's only just one call away. That makes us very flexible in our project approach".
The stage design can be individually tailored, from a modern lounge to a table talk. From a mobile product studio to a car showroom. "The modular LED panels help us to easily adapt to all these settings, that is really a big plus. Having access to experts at ROE empowers creative and more experimental projects".
"We will celebrate our 15-year anniversary in the studio, along with many of our partners." The studio will come in handy for a TV production, using the LED wall in combination with a virtual studio setup with camera tracking. "The flexibility of our studio is the basis for a lot of future projects of any kind" concludes Philipp Schwarz. "Recreating the feeling of live events while still maintaining a high-end, flexible and safe environment is what makes the studio such a valuable asset."
More info:
Products used:
128 x ROE Visual Diamond DM2.6
1 x ROE Visual eV4 Evision processor
2 x ROE Visual eVX10 Distribution box
Events
03 Dec.

LDI 2023 Las Vegas, US

ROE Visual to showcase its latest LED products at LDI 2023 Las Vegas, US. Meet the ROE Visual team at booth #1755
See all events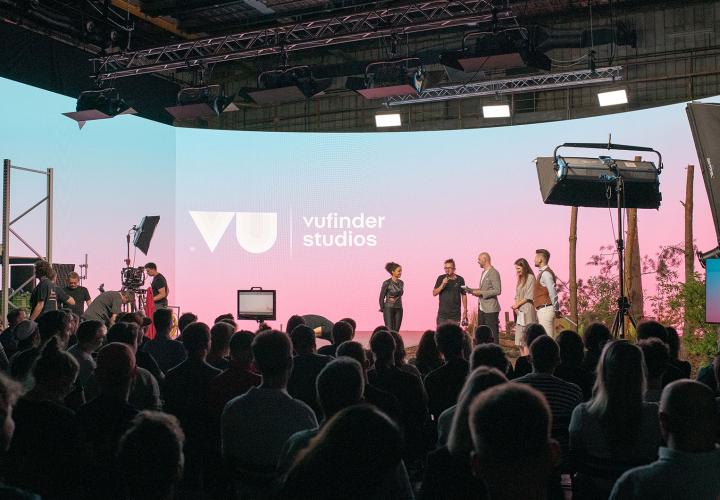 News
20 Nov.

VUFINDER STUDIOS SELECTS ROE VISUAL FOR ITS VP STUDIO

VuFinder Studios just launched its new studio, boasting to be Poland's largest Virtual Production LED Volume.
Show all news items