ROE Visual New Hires Complete Kirin Talent Program
On April 1, 2018, ROE Visual participated in The Kirin Talent Plan, Graduation Training Program 2018 where 18 new ROE Visual employees from different regions underwent this training as part of their initiation process in joining the company.
ROE Visual is a people-centric company that has grown to become a respected leader within the LED industry. Each ROE Visual team member takes great pride in the high-quality products developed and manufactured by the company. Each employee also understands that growth within the company will come with expanded innovation and talent cultivation.
Participation at the Kirin Talent event was a fresh start of sorts for Team ROE where participants were able to identify milestones and realize a fresh start through the training that was broken into three phases:
Outreach training (1 day)
Advanced training (3 days)
Mentor training (3 months)
Each phase allowed for meaningful interaction between participants and trainers at an event held at a seaside hotel in Dapeng, Shenzhen, that was replete with a beautiful and inspiring environment with ocean air, breeze and lovely foliage throughout the hotel that was more reminiscent of a vacation than training, which made it even more memorable.

The outreach training was mainly organized by trainers from ROE Visual partner Zhixingzhi. The training was experiential in nature, emphasizing participation of all members to gain insight and improvement the training that was provided.
The program stressed that people typically remember 20% of what they hear, 40% of what they see and 80% of what they experience. This training focused on creating memorable experiences that drove home messaging about mindfulness, cooperation, communication and engagement.
ROE Visual training played a series participant engaged in a series of tailored entertaining and educational games that culminated in the building of a ROE bridge together. When Team Roe successfully completed the bridge-building segment, participants were filled to a sense of pride, accomplishment and excitement.
Participants shared the common experience of harmony during the bridge-building day and shared the sense of well-being they felt in getting to know themselves and their teammates through the many mindfulness exercises. Many expressed that they had a clearer notion about the future and their role in ROE's continuing success and returned home with a sense of well-being and purpose that followed them from the Kirin campus to the workplaces.
The advanced training focused on teaching graduates to better adapt to the future work and role changes. Team ROE remained actively during this phase of the Kirin process. During breaks, team members shared snacks, drinks and played games.
Topics touched upon included Leadership Styles & Executive Force; an insight and discussion of the principals of the Seven Habits of Highly Effective People and other career preparation training that provided guidance for graduates who have recently entered the workforce.
The Human Resources Director presented an overview of the company's current status, culture, talents demands and discussed career paths available to ROE Visual employees. The company's Deputy Product Director presented the company's history and market position in the relational frame of the company's products.
General Manager Jason Lu shared his story from the establishment and development of ROE Visual and shared his candid expectations for new graduates: "To be guided by company's vision, mission and values and to continue learning with full passion."

The event culminated with 18 graduates ready to embark on new challenges within the context of their current positions, fully armed with the history, culture, mission and values of Roe Visual. Many recanted the entertaining moments during the training; many made new friends or deepened existing friendships and looked forward to their positions with ROE Visual.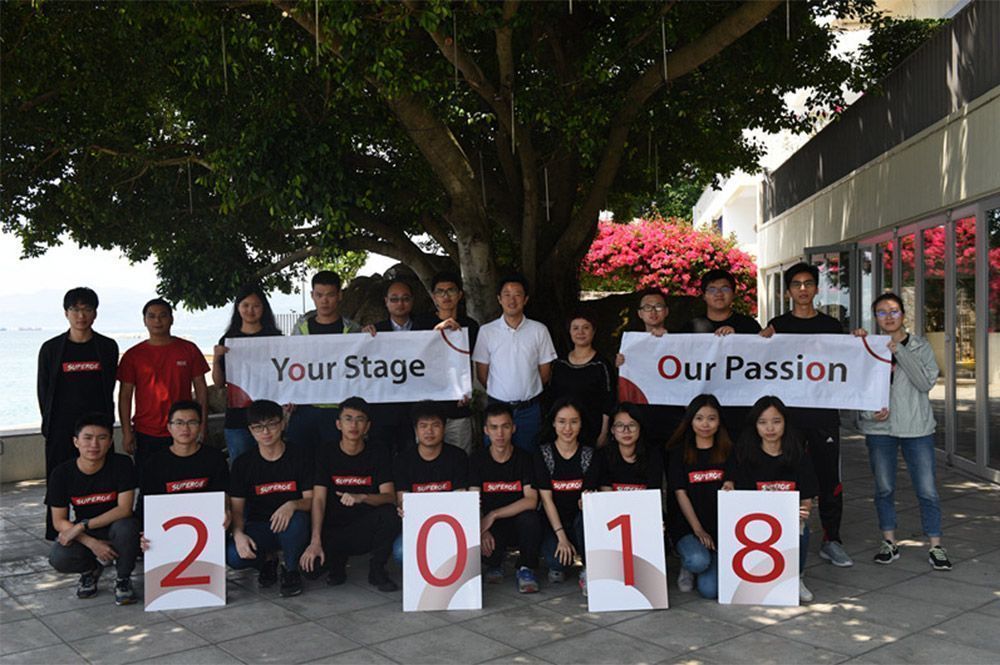 Upon completion of the Kirin course, new graduates formally joined ROE Visual as new recruits, looking forward to additional training and new challenges, thankful to the Human Resources department for having organized such a life-enhancing event.
The Kirin Class of 2018 made the commitment to strive for excellence in their work to further ROE Visual's vision to be the first choice for LED solutions for all of the premier stages of the world.