ROE Visual Expands Once Again
New Facilities, Products and New Market Segments
You know you're growing fast when in the process of expanding, you have to expand again.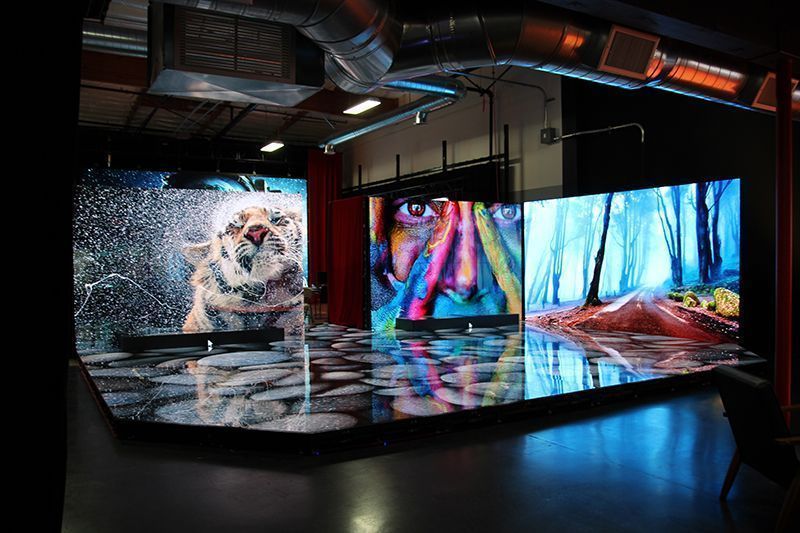 Earlier last year, ROE Visual managing director Frank Montero had secured a much larger new space in Chatsworth (northwest of Los Angeles) as they were floor-to-ceiling in their old space in Burbank. "In Burbank, we had 14,000 square feet, and this new space is a 32,000-square-foot facility," Montero says. "But in the time from signing the papers and the seven months it took to build the interior to our specifications, we had already outgrown it!" Luckily, another space a couple of blocks away opened up. Dubbed Building B, that is where inventory is kept. "So if you can imagine the evolution of all this since 2014, when we started in a 4,000 square foot building in Irving, then Burbank, and now this, it's really something. Now we can manage the inventory and the 40 employees we have working here."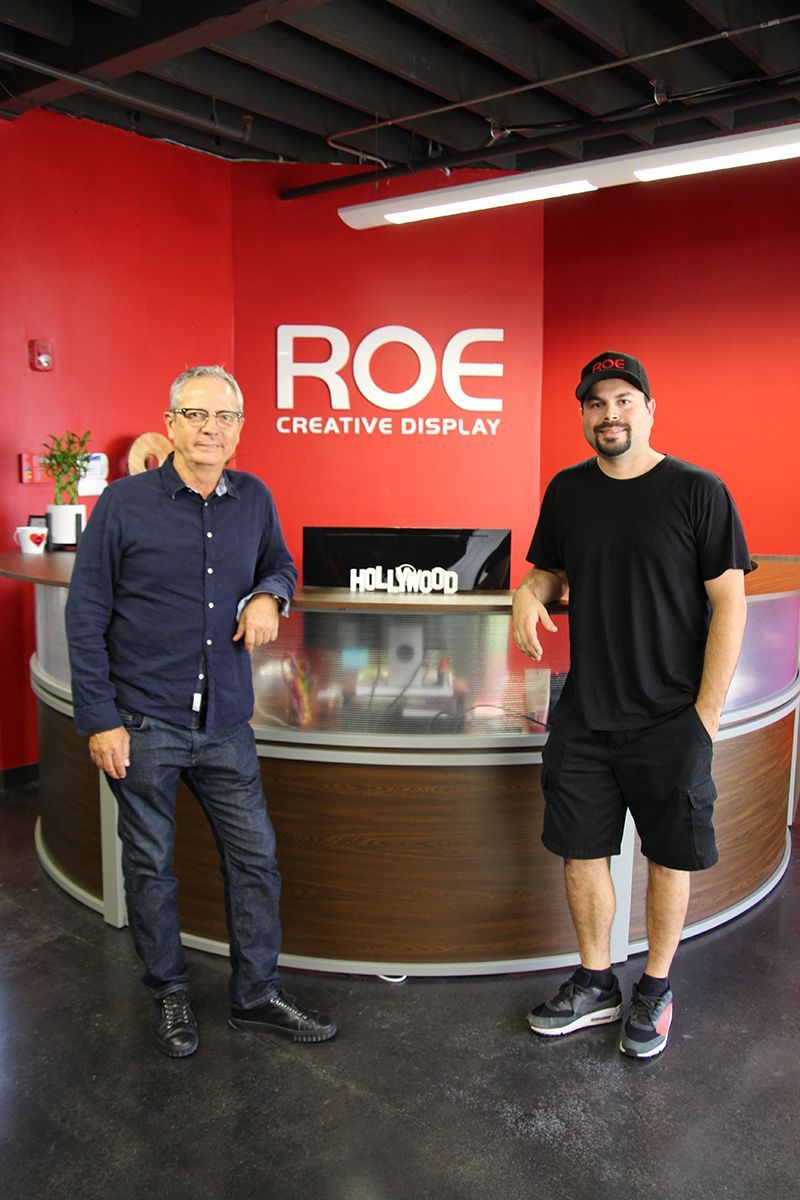 In July, there was a grand opening/open house event. The company's new Jasper and Amber systems were prominently featured, as were the Black Onyx, Black Marble, Sapphire and Carbon video products. Along with all the extra elbow-room, the upgrade provides ROE Visual with an impressive demo area to show what it all can do. When a visitor walks through the front door, they enter into a captivating and immersive visual space. "The idea is that anybody can print specifications of a video product and put it on paper — and yes it can be well-written and have good pictures; but for us, it's very important to show our product because of the quality and engineering," Montero says. "It is something you really need to experience. You need to see it, touch it, and feel the quality of the construction. You can't get that from something on a piece of paper."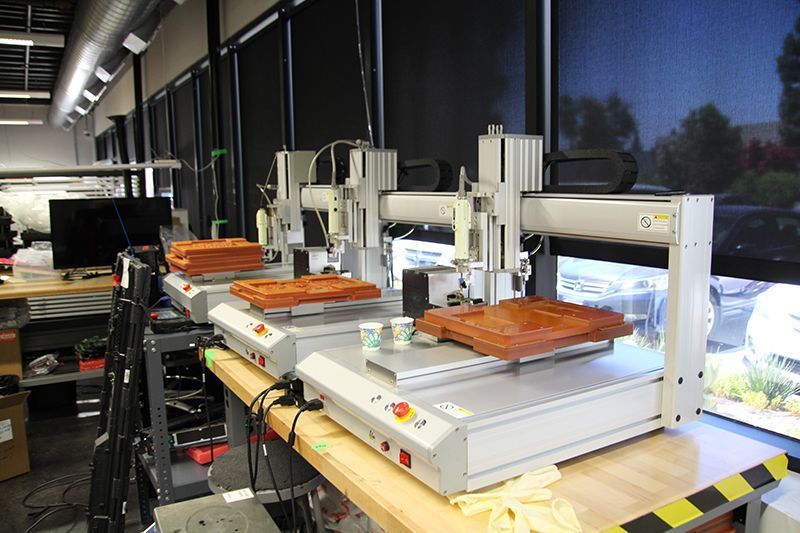 The New Demo Area
Along with the opportunity to see what ROE Visual offers, the demo area was created with the intention of allowing clients and designers to take it for a test drive, even do pre-production work on it right there on the premises. As big as the demo space is, if it's not big enough, they can set it up in their other warehouse or the designer's choice of place and have it for two or three days or two or three weeks if need be.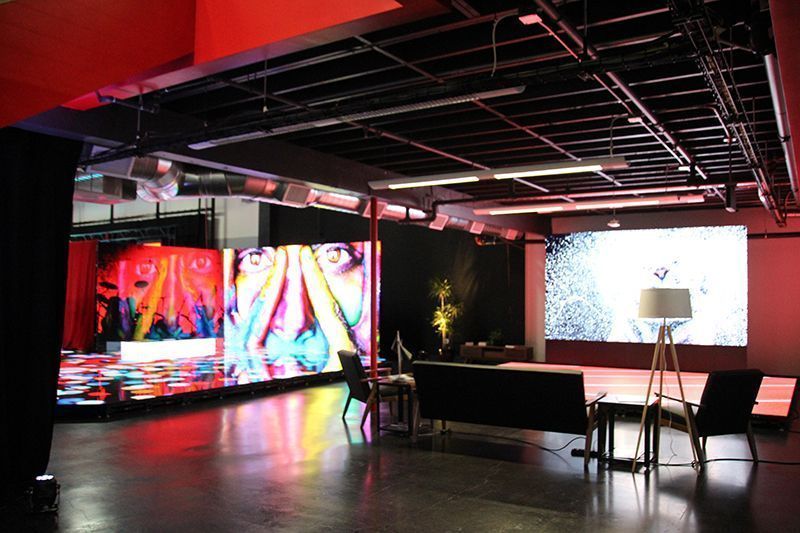 Seeing it all there, even comparing what their specific project would look like on one system versus another "really helps our clients make decisions, and in turn, they are going to feel confident that they are buying the right product for their application. The way I approach a business is that it's not up to me to sell a particular product but to offer an environment that allows the designer to choose what is right for them and their band or corporate client."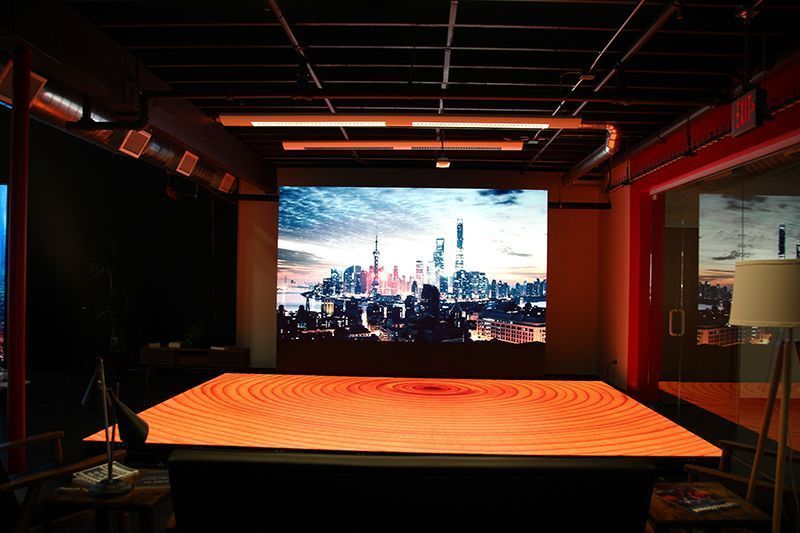 A key component to the demo area is the floor made of Black Marble tiles. It's a high-end floor panel available in glass, matte, or mirror finish. Then the walls are comprised of their Black Onyx II and Black Pearl II. In the backroom, their Carbon Family LED products are featured. These have become increasingly popular for tours because of the carbon fiber technology that keeps the panels rugged for touring yet exceptionally light in weight. The other advantage of the "living catalog" is once a client or designer has picked which system, and the number of tiles, support is right there to make sure nobody leaves without understanding how it all fits together. The on-site ROE Visual team can make sure the client confidently knows how it works, right there in person. "We don't want them to get to a show site and not be sure."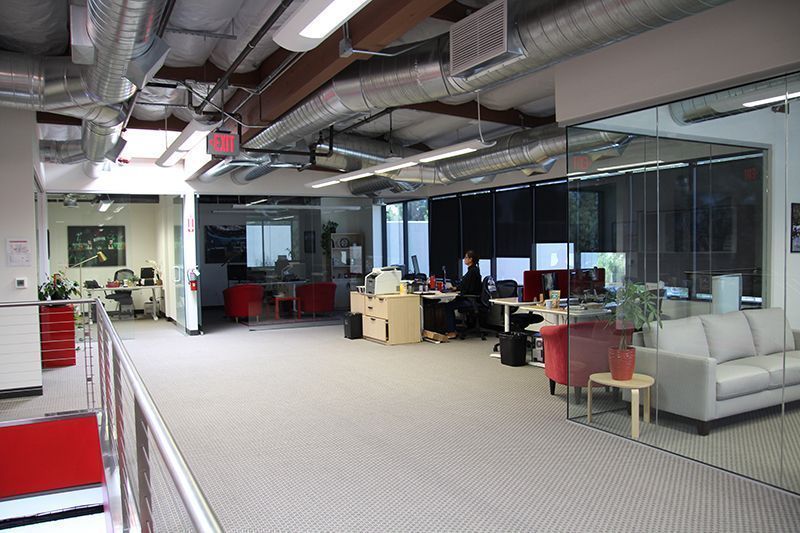 And there's more to the new building than the demo area. The staff is divided into three teams: Academy, Service and Sales. "The first team runs our 'academy' which are the three-day training sessions we put on all over the country. This team teaches operations, preventative maintenance, and troubleshooting. They are also there for clients 24/7. If they get a call from Madison Square Garden about an issue, and they can't work through it over the phone, they get on a plane and go out there." The second team is Service. They handle all repairs for gear coming in and quality control for gear going out. This includes a small, narrow windowless calibration room. "The most expensive room in the facility!" Montero says. It's where the individual LED lights are aligned and set to the proper RGB specs. A minimum of 70 meters width was needed as is total control of ambient light and temperature.
Along with its sheer size — the room needed to span at least 70 meters in width — the demo room gives the ROE Visual team the ability to reinforce one of the company's key strengths — its personal service to customers. "Everything we do is built on the simple philosophy of treating others how you want to be treated," Montero says.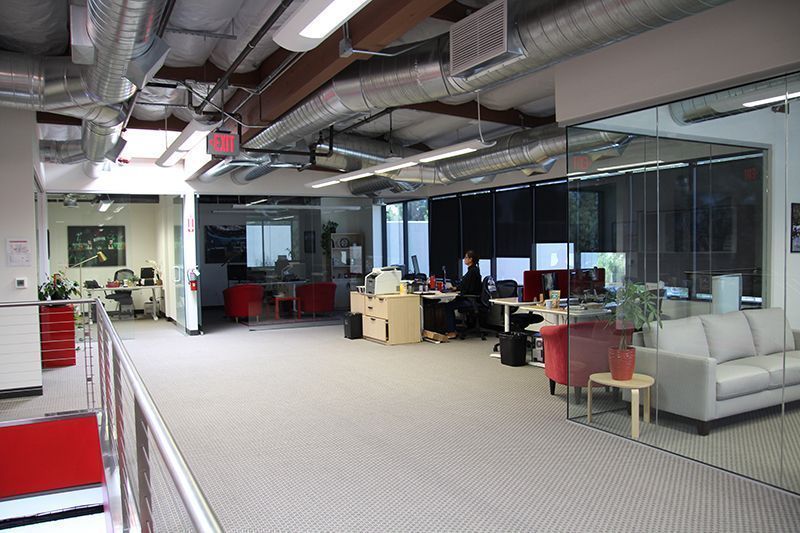 Nashville Expansion
As ROE Visual was undergoing all that expansion on the West Coast, their Nashville office went online. "We were lucky to get a local professional who is much respected, Mason Murphy, to step in and run it," Montero says. "It is a 14,000 square foot space and has an area to demonstrate our gear and another to service our equipment." Beyond serving the sizable Nashville community, the idea is having plenty of products here will help them better and quicker serve their growing roster of clients.
Murphy is certainly the guy to head up that office. He was the new business director for Pyrotek after he co-founded Glow Motion Technologies. Prior to all of that, he was with Paragon Technology Group. After an open house in June, Murphy noted that he is "really pleased to see so much interest, kicking off our Nashville office, which marks the fact that ROE Visual continues and consolidates its growth. We really feel the extra offered support is much valued by our clients. Of course, we're open to anyone that likes to drop by."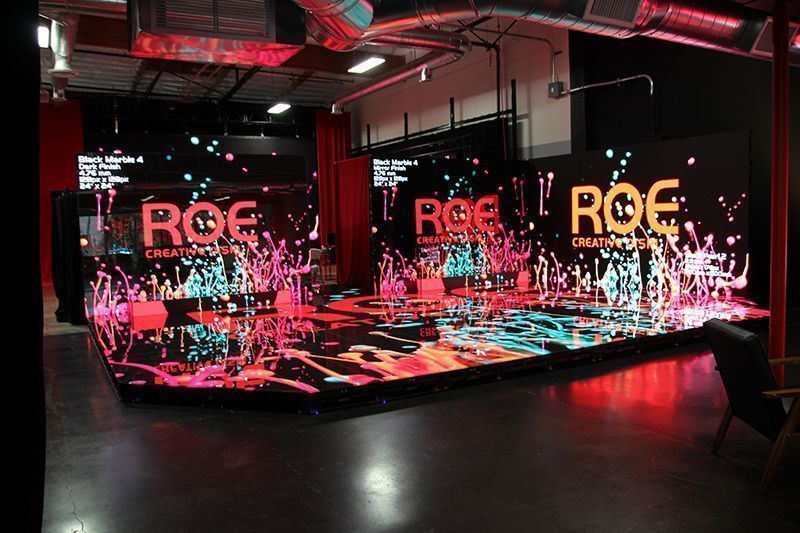 "With ROE Visual Nashville now officially open I'm very proud of the accomplishments of my team", Montero adds. "Service is important to us, and we want to be there where our clients are. We have a growing customer base in the Eastern part of the US, with clients based in Nashville, Orlando and New York. With our stock centrally located in Tennessee, we can deliver products to all our customers much faster, shortening delivery times. That's an important feat."
Overall, Montero is in a good place. "I'm happy with our team. We have a second generation coming in, which is a source of pride." One example is sales manager Nick Jevons, son of Scott Jevons who is a manager at PRG. "He's gone from the crib to the stage," Montero laughs. Rafael "Ralphy" Ayala started at the bottom 20 years ago and is now a technical manager and a key member of the US operation. The entire staff receives as much information as possible about every aspect of the business. "We'll have Ralphy give a presentation about a particular project he did and share his experience at the show. Even the accounting department understands the load-in and load-out process. It's important so if any of us ever get a call about something, we can take care of it because we have a deep understanding of the big picture. If we get that call that particular part is needed for a show, we know it needs to get to the site by 10 a.m. otherwise the crew is standing around waiting and risking a delay of the show."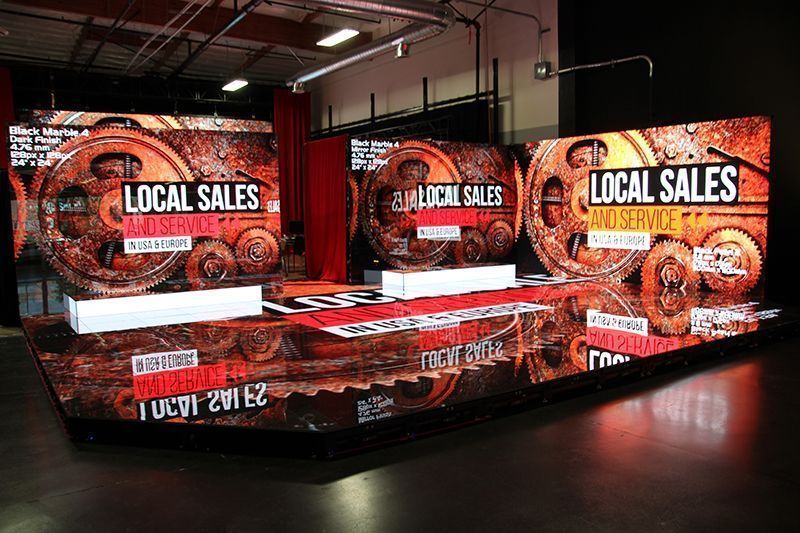 New Market Segments
Along with all of its expansion in the Los Angeles area and Nashville, ROE Visual has some big news in the realm of new product development, particularly in its new Amber and the Jasper product lines, which debuted at InfoComm 2019 in June. At that show, ROE Visual also announced that it had launched into a new market completely: permanent/fixed installations. "We're bringing what we know from developing our road-worthy to products specially adapted for installations," Montero says. "Like our history of products, these are based on the philosophy of flexible products that are easy to install, maintain and use."
At InfoComm, these video screens were presented as easily to the system integrators' requirements at a price point that is equally attractive. The new LED panels will feature two different designs, one based on a 50x50cm panel and one with a 16:9 ratio panel. Pixel pitches range from 0.9375mm to 3.9mm. Both products were designed for visual qualities that meet the demands for permanent video installations for broadcasting, film studios, corporate environments, houses of worship and board room installations. "Like all of what we do now, this came from listening to the needs of clients and designers."
"This move is mostly instigated by our own clientele," added ROE Visual's Glory Gao. "With a keen understanding of project management, logistics and implementation processes, we provide clients with not only the right LED display solutions for their projects, but with the comfort that these will be delivered timely to perform flawlessly at their event. Being involved in many projects on a global scale over the last 15 years, we know what it takes to do things first-time-right." Montero adds that this foray into this market with these two products is "only the beginning."
Original source: https://plsn.com/articles/company-411/roe-visual-expands-once-again/?fbclid=IwAR0vLc1dyzsXPsOlHeJ-flIWXSkJl7WP48HuLlfm1tNyOO5vow6CLdc76d4