ROE Academy Offers Technician Training in Europe
Leek, The Netherlands (June 26, 2018) – After a series of successful training events held at ROE Visual USA, ROE Visual brings the ROE Academy to Europe. The ROE Academy was initiated to support customers and users with the most authoritative and up-to-date knowledge on LED solutions and applications available.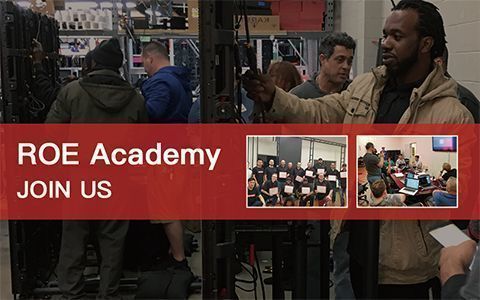 The ROE Academy offers a thorough training on best practices related to building a LED screen solution.Transferring knowledge to users and customers on how to use its products in the best and most effective way, is part of the total support package ROE Visual offers. The ROE Academy facilitates access to the broad knowledge base that is available within ROE Visual and creates a dialogue with its users and LED technicians on a global level.
The ROE Academy offers a variety of topics, all dedicated to boost knowledge and create a better understanding on LED solutions and applications. The ROE Academy provides technical training on LED technology that is supported by hands-on sessions working with ROE products. Participants in the ROE Academy will be encouraged to share their personal experiences and practices, sharing real life experiences and challenges, to the benefit of all course participants.
Tailored to its dedicated markets, the ROE Academy in Europe is developed by Luc Neyt and Victor Kortekaas, both experienced LED engineers with profound knowledge of the working field.
"ROE Visual always has been keen to make training part of the total package we offer," states Neyt, International Service Director for ROE Visual. "The fact that we train the companies that work with our gear is not new to us, however, by aligning our training events and bringing these under one umbrella, the ROE Academy, we can offer a much better package to our users and owners," Neyt continues, "I'm really glad we can rely on the unique source of knowledge and experience that our own people, like Victor Kortekaas, bring to this event, it makes the event really worthwhile to attend."
The ROE Academy offers training events at the premises of ROE Visual Europe in the Netherlands and ROE Visual USA. On request, ROE Visual can provide in-house training where content can be tailored to an individual or company's specific needs.