Novatech Takes Virtual Production Centre Stage with ROE Visual
Shenzhen, China (22 October 2020) – Novatech and Rising Sun Pictures have successfully demonstrated virtual production technology at the South Australian Film Corporation Adelaide Studios facilities. The demonstration featured a purpose-built curved ROE Visual LED-wall, with real-time virtual set generation by disguise and Mo-Sys camera tracking.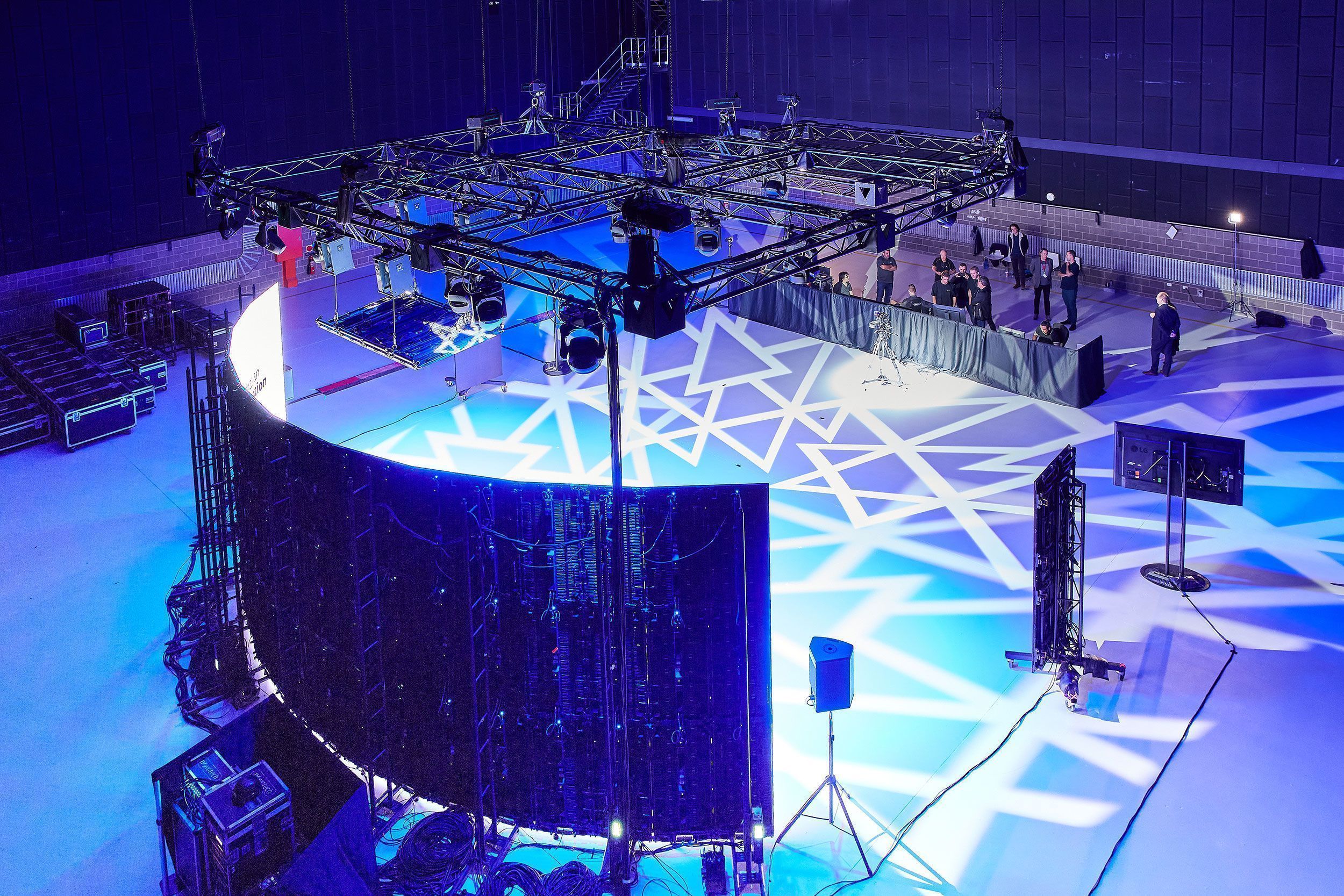 Australian based Novatech, in partnership with Intraware and post-production, visual effects company Rising Sun Pictures recently collaborated to give a hands-on demonstration showcasing the most recent innovations in virtual production technology. The South Australian Film Corporation hosted the event at its Adelaide Studios facilities. Participants gained a first-hand insight into technology that integrates real-time computer-generated backgrounds with live performance and integrated foreground lighting.
Virtual Production is the confluence of pre-production, filming and post-production. Real-time visualization, performance capture, virtual camera lensing and LED-wall environments are virtual production techniques in the toolset of modern content creation. Large-format LED screens have been at the center of this revolution displaying content such as backdrops or scenery that is captured by the camera and can be changed as required. Recently, technologies such as virtual reality, augmented reality and mixed reality have converged under the umbrella of Extended Reality (XR for short).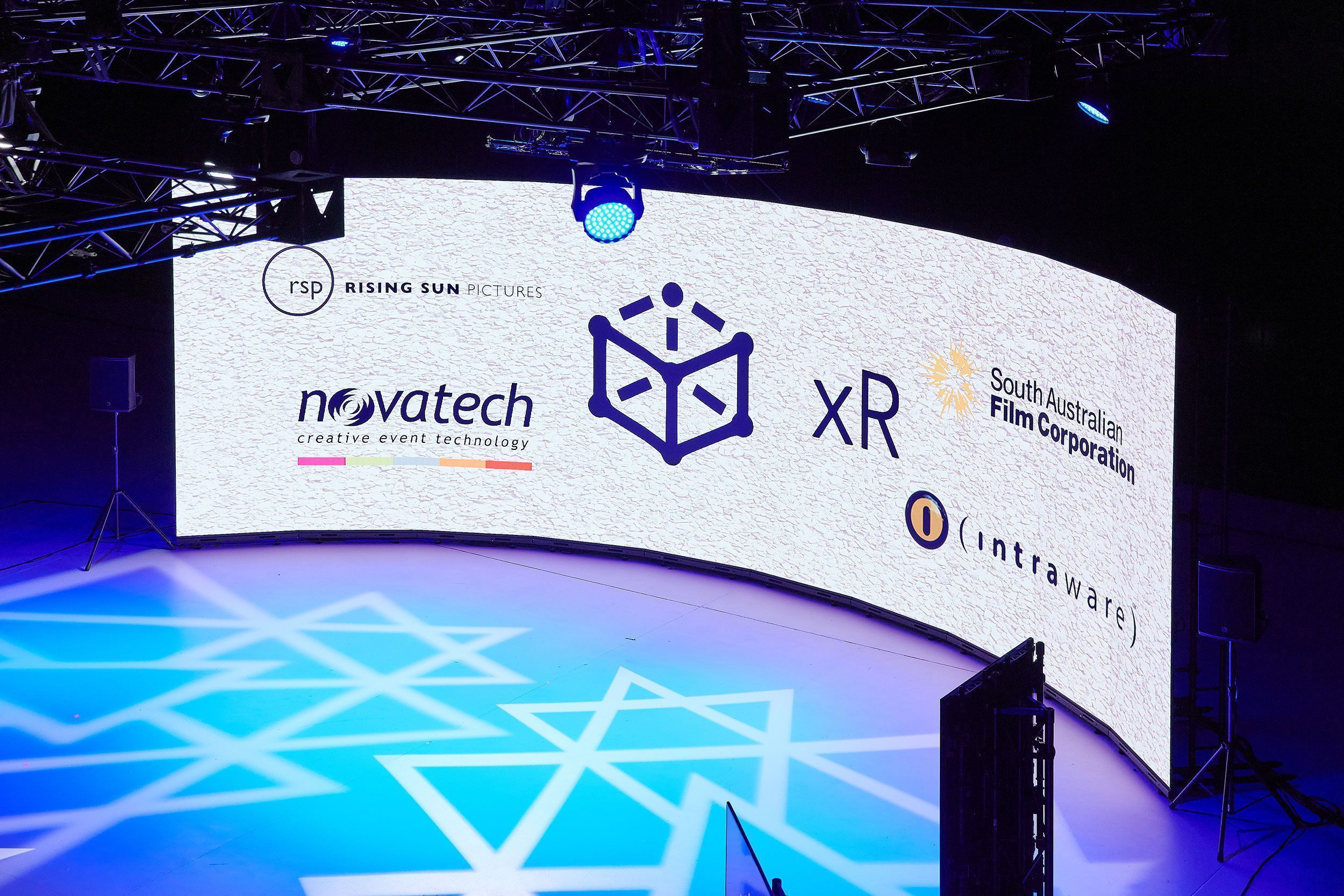 disguise's xR allows the background scenery to be created in real-time in response to what the actors are performing and where the cameras are placed. It also allows for extended sets to be displayed in real-time where the real world meets the virtual world to provide flexibility and real-time feedback for the actors, directors and visual effects artists alike. This has been used to great effect in broadcasts such as Katy Perry's 'Daisies' performance on American Idol as well as blockbusters including Universal's 'First Man'.
Novatech are pleased to announce that the technology for Virtual Production is now available for hire. These include ROE Visual LED screens and projection solutions in a variety of sizes & configurations, disguise xR servers and Mo-Sys camera tracking equipment which go hand-in-hand with clients' cameras, real-time 3D engines (such as Unreal) and other associated production equipment and crew. For this particular set-up 60 Carbon series CB3 panels were used for the 12 x 3.6m curved screen and additional Carbon CB5 panels for the moving ceiling and rolling pillar screens, all panels running on Brompton processing.
"Novatech is a 100% ROE Visual house with a large inventory of ROE Visual panels and strips. The panels have been deployed on multiple high-profile live events across Australia, and we're excited to be extending their use into the Virtual Production area. We love using ROE Visual LED panels and they provide excellent build and image quality which is particularly suitable for film and TV production" states Novatech's Director of Sales and Marketing, Ashley Gabriel.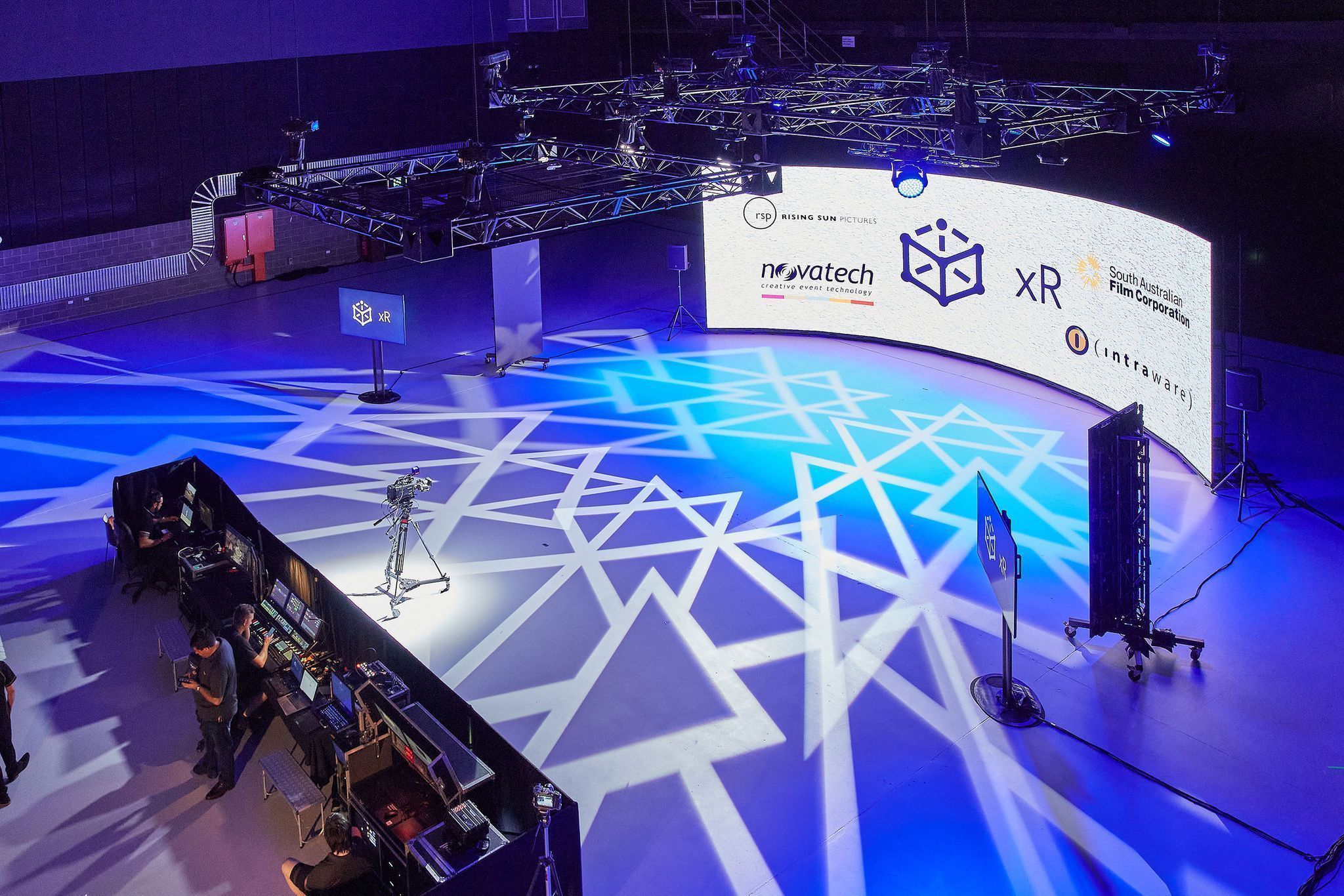 Intraware, Novatech and Rising Sun Pictures are proud to have showcased this ground-breaking technology for film and television to local industry in conjunction with the South Australian Film Corporation. Virtual production is increasingly being used in movies and TV across the world and is available right here in South Australia. This ensures that South Australia can attract leading productions from across the globe and provide world-leading technology from local suppliers right here in Adelaide.
Novatech's Managing Director, Leko Novakovic remarked, "We pride ourselves on using cutting edge technology to deliver world-class services. Novatech are thrilled to be able to bring this world-leading technology to South Australia and have demonstrated this innovation in virtual production technology to the local industry. Having this technology available from local suppliers here in Adelaide will help in attracting international film, television and business to our great state."
"Rising Sun Pictures is proud to have been a part of demonstrating the possibilities of Virtual Production to film-makers in South Australia. As a leader in Visual Effects production, Virtual Production allows us to use our design and world-building skills to help filmmakers realize their vision earlier in the production process, capturing finished effects shots in the camera," expressed Rising Sun Pictures Managing Director, Tony Clark.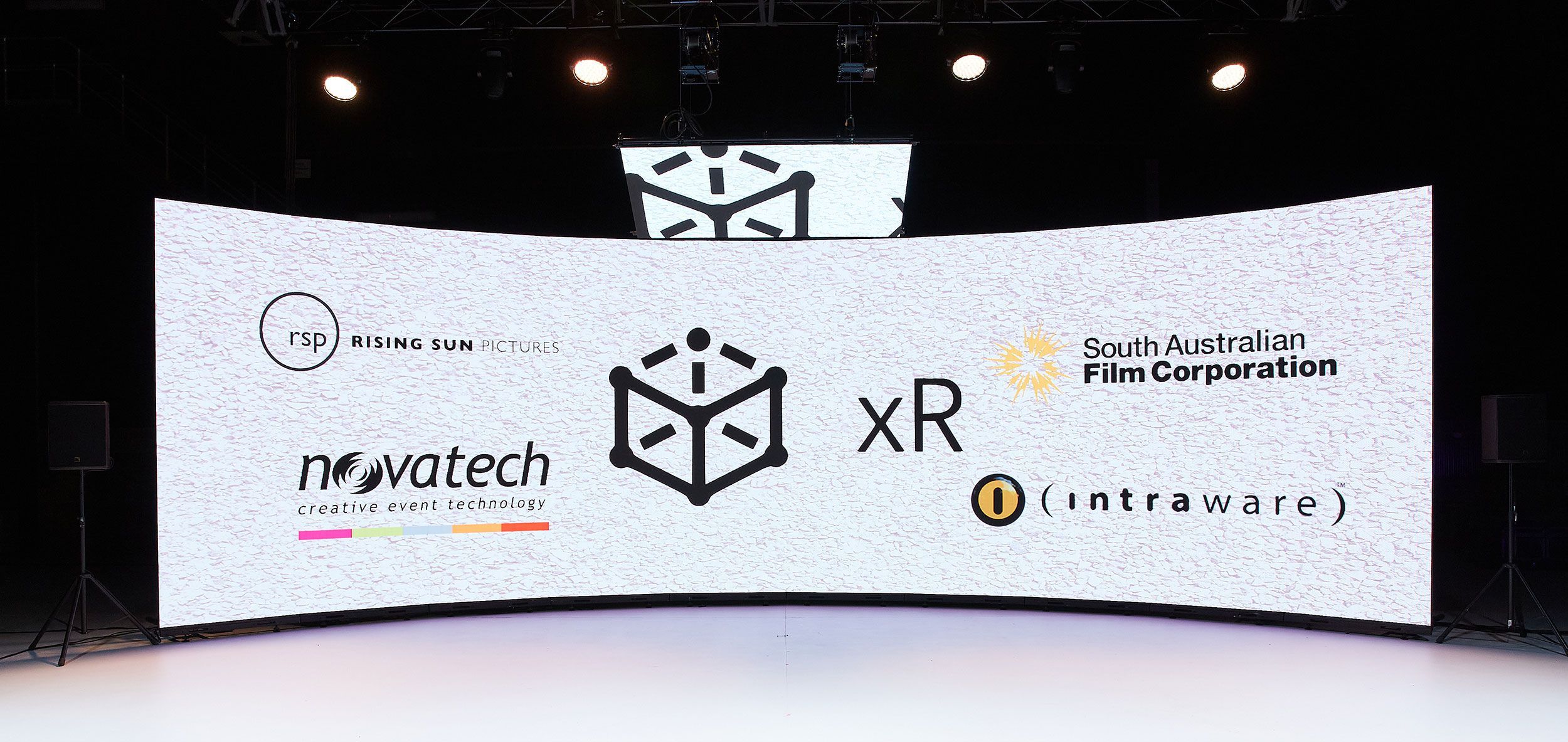 Intraware have been a leading provider of technology to the Production industry for over 20 years in Australia, New Zealand. During that period, we have helped our customers transition from the last big technological change from the analog film world to the digital world in the late 90's. Now we stand with our customers to help them transition to the next big Industry transformation into Virtual Production with groundbreaking new technologies of disguise xR Media Servers and Mo-Sys real-time camera tracking systems. Intraware really appreciates the opportunity to work with the South Australian Film Industry as it moves to this new world," commented Intraware Director, Wayne Morphew.
"Virtual Production technology is a game-changer not only for filmmakers but also for Visual Effects and games creatives, with the potential to revolutionize production and create jobs right across the South Australian screen sector. Combined with the SAFC's world-class Adelaide Studios facilities, Virtual Production technology capitalizes on South Australia's strengths in Visual Effects and game development and further cements the state's international reputation as an attractive location for filming and production. We were proud to host a special demonstration by Novatech and Rising Sun Pictures as part of the SAFC's commitment to championing the South Australian screen industry, businesses and practitioners," said SAFC CEO, Kate Croser.
More about Virtual Stages and Productions
More information:
https://www.ncet.co/virtual-production-taking-centre-stage-in-adelaide
Products used:
Photo Credits: David Solm
03 Dec.

LDI 2023 Las Vegas, US

ROE Visual to showcase its latest LED products at LDI 2023 Las Vegas, US. Meet the ROE Visual team at booth #1755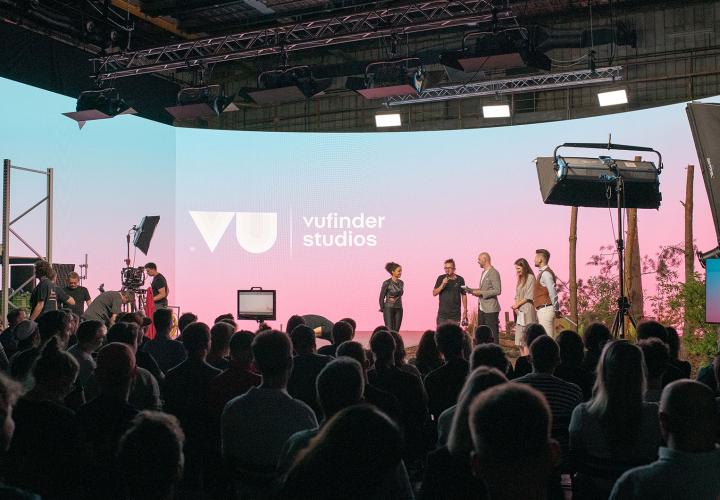 20 Nov.

VUFINDER STUDIOS SELECTS ROE VISUAL FOR ITS VP STUDIO

VuFinder Studios just launched its new studio, boasting to be Poland's largest Virtual Production LED Volume.