80SIX Utilizes ROE Visual LED Products for Notting Hill Carnival
Leek, The Netherlands (7 October 2020) - With the right products and experience in-house to set up a virtual production studio quickly, 80six was able to help Dimension Studio & the Notting Hill Carnival organizers to create a purpose-built xR studio to deliver this year's successful online event.
One of the highlights of London's summer events calendar, Notting Hill Carnival is a chance to showcase and celebrate the diversity of the country's capital, attracting millions of people each year throughout the August bank holiday. Moving forward after the inevitable cancellation of the event, the organizers brought a streamed digital-only event.
The focus of the live stream was an elaborate xR video stage that was used throughout the weekend. Steve Jelley, MD of Dimension Studio – producers of this year's online Carnival – approached Jack James of 80six to provide all the technical crew and hardware required to broadcast three days of content from Malcolm Ryan Studios in South London.
"We were tasked with creating a virtual set that was reminiscent of a Notting Hill street, but something that was hyper-real so people realized they couldn't go looking for it," explains 80six Director, Jack James.
For the LED screen, 80six deployed ROE Visual Diamond 2.6mm for the rear wall and Black Marble 4.6mm for the floor. "We consider ourselves ambassadors for the ROE brand, we truly believe in the quality of their products and support," said James. "The LED was processed by a fully redundant Brompton SX40 processing system. The combination of ROE and Brompton is bulletproof."
A pair of disguise gx2c media servers running Notch provided the backbone of the project. To capture the content live, 80six utilized Blackmagic Design URSA broadcast cameras, with Glenn Austin cutting the show on a Blackmagic 2 M/E PPU. VT Playback was handled by Jeremy Langley of Bullfrog Limited with his VMIX servers and streaming and on-site editing services were provided by Zest4TV.
Throughout the show, the main xR stage displayed the 'Ladbroke Grove street' with a full camera tracking system along with another green screen stage for other performances.
For the creative direction and content used during the show, 80six contracted Lewis Kyle White of Pixels & Noise. "There was very little time to get this right," James explained. "Lewis managed to produce a really impressive initial draft of the Notch scene which everyone was happy with and that meant we could move forward with the project quickly which was essential."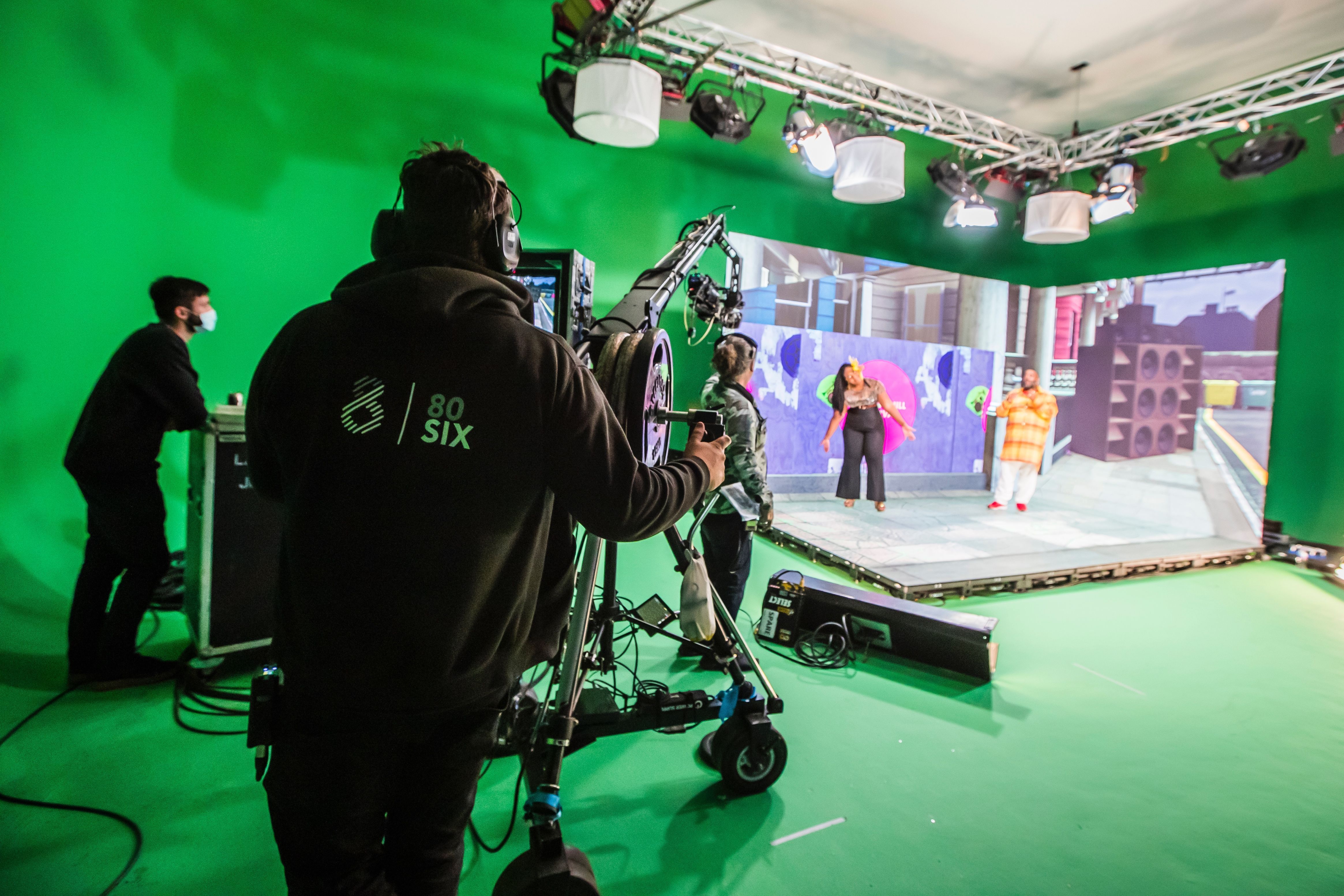 80six have been involved with xR projects for a little over a year now. "Early on we realized that it would be necessary to have the right equipment to hand. Relying on the quality of ROE Visual's products for 95% of our rental stock, we started to invest further in Black Marble LED floor panels. This is now proving to have been a great decision. The Black Marble LED panels are instrumental when setting up an XR stage to create an immersive environment for both the audience and the performers on stage".
"The panels have been in use almost constantly since the purchase; Currently 30% of the stock is out on hire and we also have a portion installed in the studio space we have set up in our new warehouse in Slough to demo the technology to new and existing clients."
Photos:
80six, Ryan Dinham
More information:
www.nhcarnival.org
This article is an adaption of its original source: